intonation problems?
i am having a wierd buzz noise when i fret the b string on my electric on the 11 fret. is this a problem of bad intonation or what? how can i fix it?

Join date: Sep 2003
10

IQ
I had the same problem with all strings on the tenth fret. I just messed with string action until it went away.
yeah sounds like the string might be a llittle low.

what type of guitar?
its a custom but it has a 21 fret neck and a string thru hardtail strat like bridge

Join date: Sep 2003
10

IQ
Raise the string height a tad.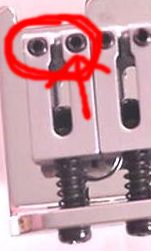 saddles like this? then lower the two screws to raise that string.
use a small allen wrench.
phil's pic