guitar problems
I got a guitar that when u fret a note, if u push a bit harder on it it will sound like a bend. Is this normal? If not how do i fix it? I tried adjusting the action, but it just made the strings buzz real easily.
I had that problem a while ago. I think i fixed it by changing the strings to a higher gauge.
just dont press down so hard...
does it do that at every fret?
sometimes the intonation is off (the tuning up and down the board)
so when u fret the note it sounds sharp or flat.
this is how u intonate...from icepoint.com
SETTING INTONATION:
Most electric guitars provide individual string length adjustment for setting intonation. Fine tuning this length insures that your guitar plays in tune all the way up and down the neck.
Using an electronic tuner, tune your guitar to pitch.
One string at a time, play the harmonic at the 12th fret and then play the fretted 12th fret note.
If the fretted note is sharper than the harmonic, increase the string length slightly until both notes register the same on your tuner.
If the fretted note is flat compared to the harmonic shorten the string length slightly until both notes register the same on your tuner.
Repeat the procedure on all strings until the harmonic and the fretted notes are the same.
check and then, if its a strat bridge, this is the screw u turn...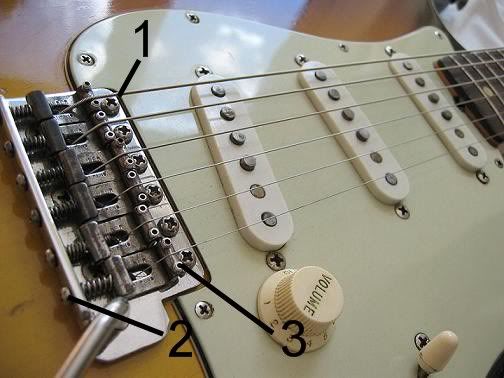 # 2
if its a TOM bridge...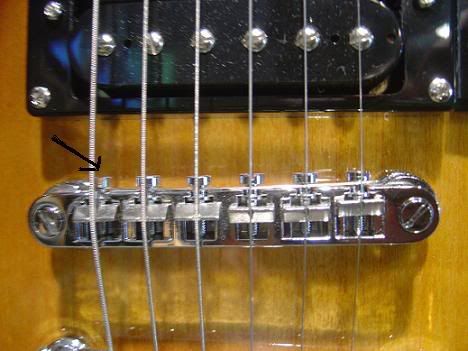 u intonate wt that screw.
repost with questions. or if u tried to check and the intonation seems ok.
nah jenny it just seems the ts pushed it to hard then lowered the action til they got fret buzz
i dont know. maybe if he's got jumbo frets. then pressing to hard would make them sharp.

standard frets, shouldnt go sharp.
actually if i press hard enough i can maybe get a lil sharp
get a better guitar lol



seriously
if you press down really hard you get a sharp but thats way harder than you should be pressing, i can do that on my 6th string

Join date: Jun 2005
259

IQ
You should be able to do this on pretty much any guitar, but to not do it you just have to press down more softly on the frets/strings.
it works easier on scalloped fretboards i presume
LAf, yeah, u can scoop under the fret and get it to ring out sharp. but thats not easy to do everytime u fret.
(unless the frets are high, like said.)

its more likely the guitar would be out of tune in the first place.

Join date: Jun 2006
20

IQ
no your really just pressing to hard. on pretty much every guitar ive played including both of the ones i own if you press down harder than you need to the pitch will go up slightly...just dont press so hard. and fret size does make it easier and harder to do it. my hellraiser has extra jumbo frets so i can raise the pitch higher than my traditional with jumbo frets.