Tremolo Springs Question

Join date: Feb 2006
180

IQ
Do I need some new tremolo springs when they don't return to the level position after whammying to a higher pitch? I have no idea how old the ones I have right now are.

Whenever I whammy down and dump the bar, I'll bring it back up to the set position and it'll be tuned lower. Whenerv I whammy up, I'll bring it back up and the strings will be tuned higher. What should I do?

Join date: Dec 2004
200

IQ
You didn't say if it's a Floyd Rose style trem or not. If it is an FR then you might have a spring problem, if it's a non-locking trem then it's simply because of the fact that it's non-locking.
if ur bridge is lifted then tighten the trem screws in there to level it out.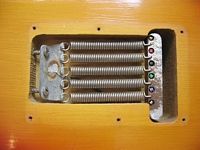 example of 2 screws and 5 springs. add extra springs if u need more help.

Join date: Dec 2005
80

IQ
how old is the guitar in question? and how much have you been using the whammy bar? also is the bridge parallel to the body?

Join date: Feb 2006
180

IQ
Guitar is 20 years old.... I have no idea how old the trem springs are. There are only 4 out of a possible 5 I can have in there. The trem is parallel to the body in the resting position. It is a double locking tremolo.

I put some heavy gauge strings on right after I got it, and I had to tighten the trem screws in order to give enough resistance, so I'm guessing either the springs are worn out or I need that 5th one. I think they are worn out though, they don't snap back to their origional position.

Join date: Dec 2005
80

IQ
yeh you might just wanna buy a whole new set infact i need to buy some new trem springs aswell