Color scheme contest! One of you will design a guitar!
Okay everyone, I have a challenge/contest for all of you mods.(the the who kind) I am redoing a cheap ass classical guitar, but no your everyday classical. No, this is going to be insane! The paint job is going to be like NOTHING else you have EVER SEEN! When someone looks at this guitar when it is done, they're are going to think to themselves that the guitar must have been part of some acid trip gone wrong... or right.
What kind of paint scheme am I going to paint it?
I DON'T KNOW YET!!!
Because YOU are going to be the one that is going to design it! That's right bucko, I want to see the coolest looking color scheme ever created by man kind, let alone by UG. Bright colors a crazy designs on the guitar.I will allow about 4 weeks for your ideas or to search for a diffrent style you want on it, unless one just POPS out at me as, "The one"...Then I might jump the gun and start on it. But I doubt that will happen and if it does, I will let everyone know.
Okay so here are some rules.
No band logos, names or rip offs of famous guitars (Like Zakk Wyldes gibson)
No special gold plating or extreme high cost anythings on it.
Nothing that is already on a classical. I want this thing to look like a beast from hell, or just not a guitar that you woukld expect to hear Blackbird out of.
You must show some type of picture of what you are talking about. From a well done photoshop to a crappy MS paint drawing. As long as it gets your idea across.
And number one, if you have any "advice" on why I shouldn't paint it, keep it to yourself. I know what im doing to this cheap guitar and I want to...
Now I know you are thinking to yourself, "But Spencer, I don't know you, or even like you, why would I want to help you out?" Well I hate you too sir, but there is something in it for you. For one I will label the guitars paint job link with your name on it, giving you full credit, but I will also Put you initials on the guitar! and I don't mean a tiny little spec on the paint that may be your name, it will be well seen so everyone that asks me hopw I did that I can tell thgem your name and say you are from the UG forum. It can be your fake name, or your real one, it's up to you.
Okay, so now you know what I am looking for and what's in it for you. If you think this is a dumb contest and you think nobody is going to do it then fine. Write out all your ideas and put it in your suicide note, because I don't care. After I have narrowed down the results to just a few, I will make a poll with the top 4, then you of all people can help me choose once more.
Alright everyone, goodluck, and get to work!

Last edited by pass2 at Jul 8, 2006,

Join date: May 2006
40

IQ
good idea, i would do one for you but i cant even decide how i want my own custom to look so i cant help you at the moment

Join date: May 2006
70

IQ
You really shouldnt paint a classical guitar... it wrecks the tone.
Well it wouldn't be that much thinking on your part. Just close your eyes and picture a classical guitar that you have never ever seen before, something that makes you say, "whoa!... What the hell?" That's what im looking for.

As for the tone issue, I know that and I really don't care. The tone on it now isn't too exciting but it will be cooler to have once it is painted. I would rather have a kick ass painted guitar, then a **** guitar.
Either make it Hendrixy/Hippie like by painting physcodelic designs, or do a black to purple burst.
did you not read he wants nothing to do with famous things...btw pass check your PM's

ive used up all my imagination so far and all ive done is the saddle/bridge and the sound hole...its gonna be kick ass, tho i will not post the design here, refer to ur Private Messages...
okay so i figured, what the hell....ill post em here any way....
i would have finished the tribal design on the other side of the soundhole, only to the fact that, i am no artist and i didnt center anything and i made the soundhole to far to one side,
so picture this with the tribal picture shown below, when you see it you will get the picture of what i mean....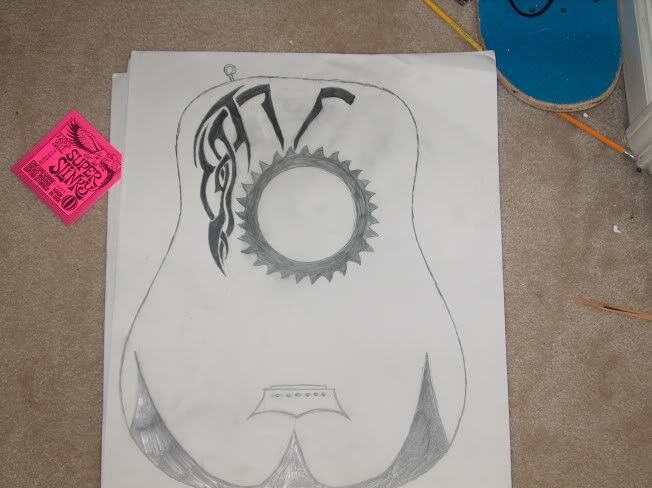 close up of the 2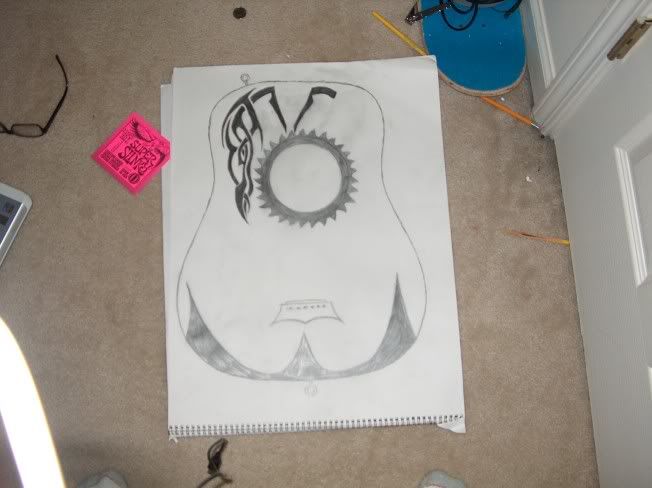 full body
tribal reference
THIS IS NOT COMPLETE!!! Just finished for mind hurts and is out of ideas rite now....
EDIT: in case you couldnt tell, the ring with teeth around the soundhole is a table saw blade
something like this?
although the paint job seems like it'd be near impossible to accomplish
The tribal looks pretty badd ass, I must say. Keep going with that idea. It would look cool on the body but what can you come up with in a fret design? Don't forget about the rest of the guitar. If you can add some tribl looking things all around the guitar, then you're on your way.

As for the green and red paint job, nothing is impossible. It may not become that bright, but it's doable.

Both of you have good ideas, and I like where they are going. Keep em coming. Only 3.9 weeks left.
btw, id like to know how experienced you are with guitar building and customizing, as if you can inlay and route, then i can come up with a sick neck for you, but if you cant then all i casn think of is scalloping it then ebonizing it...

Join date: Apr 2006
90

IQ
for the past.... 8 months or so i have been getting this painted for my amp. and what your describing is what i had in mind while i was painting this... you can have some of the ideas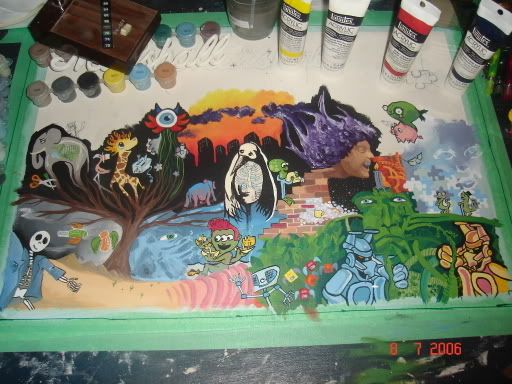 Well describe you idea to me and i'll see if I can make it work Schecter.

That is a pretty sick amp pac man, but im looking for a more color scheme or design, not so much a drawing. If I was just gonna slap something on it I would have just used my jimi hendrix stencil...
AHHHH I WANT THAT!!!

Did you make it or buy it?
Psh, buying stecils are for faggs. I cut out all of my own stencils. I put them on shirts and sell them to my friends too...
Yeah I make them too, I have done a Slipknot one and Korn one so far, just for concerts and **** tho.

What do you use to make them with man? Cardboard or some kind of plastic?
something like this?
although the paint job seems like it'd be near impossible to accomplish
WOW that is ugly.

That's not for you to decide... spam
That's not for you to decide... spam
And that wasn't?
You went out of your way and made a post just to accuse me of spamming while spamming yourself?
Well done

*And you've been here for what.. four days? Get lost.
Yay!

What I would do, is keep the finish, and take a sharpie, and draw something on it. Try filling it with the vine inlay-type design from the Ibanez JEMs. A classic acoustic with the vine paint-job would look awesome.
Yay!
That is awesome man, did you just get a picture of a marble painting or something and use photoshop?
WOW that is ugly.
He said:
Bright colors a crazy designs on the guitar.
I think it fit the bill. It's bright, and you'd be damn near crazy to put it on your guitar.
Chips, that is a pretty bad ass design. But don't forget about the back and the sides. Good job.
Sharpies are over-rated. It would wear off on some spots. But if you want to come up with a design, i'll consider it.
*Edit-(Thanks

)
Last edited by pass2 at Jul 9, 2006,
actually, i think it was chips who did that last one
That is awesome man, did you just get a picture of a marble painting or something and use photoshop?
I used the render clouds thing and the yellow is just some brush I've downloaded.
what i meant pass by what i can come up with was inlaying, not just small pearl dots, it would be something to the extent of this gothic cross from one of my schecters...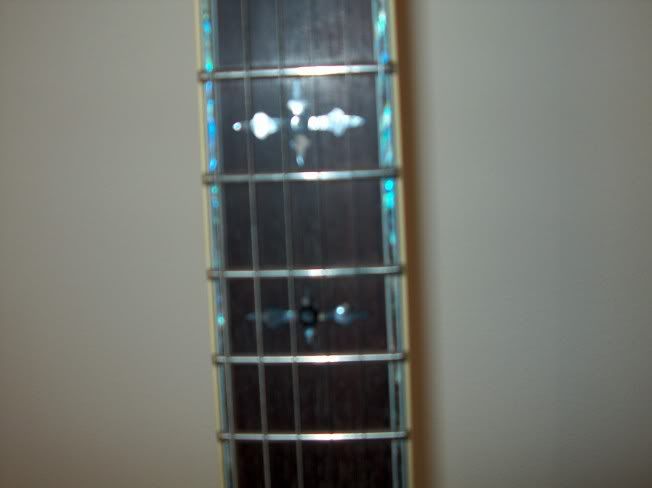 if not, then scalloping alll the frets for look?
Some kid might lash out "It looks to much like EVH ****"


Join date: Aug 2005
100

IQ
this but on a classical

I've never played a guitar with scalloping frets, so I don't know about that. I would rather do some cool design with a dremil. That is something else im looking for as well. Everyone is forgetting about the back of the guitar as well. I love what I see so far. SO far so good.

Everyday, I like your design, very colorful.

StuC, That design is AWESOME. I would never expect those colors on a classical, perfect.

slashnmash, that's really cool looking, but can you make that design on a classical?
I have one but i don't know how to add pics
okay so after about my hardest 4 hours of drawing ever i have completed the best drawing of my entire life, i have now completed the front of your guitar design and the back, leaving the sides and the neck is all that is left for me to do, I have a major headache from all the metal ive been listening to while drawing the back up and i must say that i am going to get it framed and hung up in my room soon....
My brother is an artist going to art school next year and i browsed thru his portfolio and cam out with the coolest Grim Reaper, but he goes with the tribal on the front of the guitar....
here is the back that im sure none of you have been expecting to come out...
the close up
as you can see it takes up the entire back of the guitar...
will have pictures of the front tomorrow, camera died, and we have no more batteries.....

till then!
Pass- Hope you like, took me a while
Thats awsome Schecter, but how is he going to get that on his guitar?
yea about that....lol

i dont know but its hella cool and im sure that if he can cut out and draw that hendrix stencil, he can draw this, i gave him my bros original image i used to draw from in a pm when all i had drawn was the head and hood
Oh, ok. Well it is awsome so hopefully he can get it on there.

Join date: Feb 2006
150

IQ
i want to build a guitar just to put that on there now. Oooh actually, if you dont mind i may slam that design on some pedals i'm building this summer.
EDIT: unless you wann design something else of course

i want to build a guitar just to put that on there now. Oooh actually, if you dont mind i may slam that design on some pedals i'm building this summer.

EDIT: unless you wann design something else of course
Quick, delete the picture post

.
this thread is livining (sp) up now that i posted that
ET are my initials coolest initials ever
it toke me a long ass time to finish this
Last edited by ETmyday at Jul 10, 2006,