Alright, YounG Brad is confused.
alright, so when i plug in my Austin, the sound wold always cut out and act gay and i would have to keep hitting the jack to make it work, so i figured the wiring was ****ed up in it since when i plug in my Epi, it works fine, its not my amp, because with my Austin it does it on both amps, my Epi doesnt have any problems, and i am using the same cable and amps.so wiring was ****ed X10, the guitar was a week old, so i brought it back and explained my problems (yes i could have fixed it myself, but there was also a stress crack in it, so i brought it back cause i dont like stress cracks). Anyway, as i explained my problems, the guy plugged in the guitar, and nothing happened it worked fine,. i told him when i moved around and junk, it would crack and make a big buzzing noise unless i like knocked the cable back in place, so he shook the guitar around and flipped it and attacked it, and it didnt buzz or cut out once.


Why the **** would it do that here?, with my Austin, and not My Epi, on the same amps with the same cables, but not do it there, when it got shook around more than t does when i play?


And the guitar is brought back, they are ordering me a brand new one, cause a stress crack shouldnt happen not even a week after owning it.
have u ever hand tightened the input jack?
really good chance one of the two wires is loose. and cuts out when it moves a certain way.
i took it off, and even the guy at the store took it off, nothing looked broken or anything, on my amp, it buzzed anc ut out and acted like a retard, but when he plugged it in and shook it like a mother****er, nothing happened, it still played perfectly why he was doing it, so jsut to be safe, ill buy a new cable next time im up there
yeah, oh well unless he used ur cable then i guess thats the culprit.

yeah, but thing is, when i plug my exact same cable into my Epi, and shake that around like a retard, it still plays perfect, no cracking or buzzing, but when i put the same cable into the strat, it cuts out and buzzes, i think it might be the angle of the plug, and jsut the sheer age of my cable, but oh well, they ordered me a new guitar since that one had a stress crack anyway, so hopefully when i get it it will all work fine.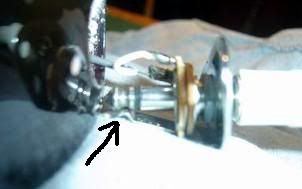 well u also have to make sure the plug is getting gripped ok by the arm on the input.
if its not clicking in there, ull sut out with some plugs.
if not then u have to bend up the arm a little to get good contact.
did the guy actually take off the plate? if not he has no way of knowing.
yeah he actually took it off, but he didnt try plugging it in to make sure it has good contact and i think that may be the problem, its alot tighter to plug the cable into my Epi than it is into that guitar, so that could have been the problem

oh well

thanks for the help!
ok bend it a little if u want. LAf, please not too much to break it.

and see if it helps.
good luck.