Lowering action?
Hello, I have a stratocaster... But I feel the action is a bit too high.. Is it possible to lower it?
yeh reply if you want to do it yourself
I want to do it myself.

On each saddle there are two allen screws. You lower the saddles by turning these.
stop once you get fretbuzz then heighten it abit.
make sure you play every note on the string your ajusting to make sure there is no fret buzz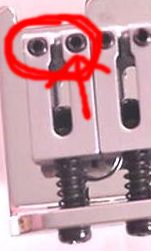 dave meant these two screws. u need a tiny allen wrench.
(logz pic)
dave meant these two screws. u need a tiny allen wrench.

(logz pic)
on my ibanex it a 1.5mm allen key if thats any help