Strat question
Is it possible to get a SSS Mexi Strat as a hardtail? I'd rather not deal with trem problems.
oh evian, keep the trem tight, ull never know its not a fixed bridge.

let me look for a link anyway...
But won't there still be trem problems? Like tuning will be a pain because If you tighten one string, the bridge will throw off the rest.
no thats floyd. i mean if ur bridge is loose sure that can happen.
but ill tune my mex strat once, and then the next day, maybe only the G is a little flat.
3 springs in the back and u tighten the two screws in there. 4 or 5 springs and that sucker wont move at all.
takes a few minutes.
anyway i looked, nope i just see MIA hardtail for about $950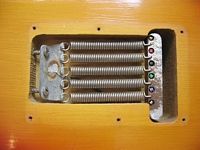 example of 5 springs and 2 screws. overkill yes, but thats a tight bridge.
Plus locking tuners are pretty easy to have installed. i mean something like that and ull never have to tune it.
Last edited by jj1565 at Jul 11, 2006,
Hmm Ok. Would I just tighten it until it's right up with the body?

Join date: Sep 2005
30

IQ
Yes, if you add those 2 extra springs, it will basically be unmoveable. If you used your whammy bar, the bar would bend before the bridge would. Be careful when you put the springs on though. Their under alot of pressure and could snap and break your guitar fingers. =)
Hmm Ok. Would I just tighten it until it's right up with the body?
yeah flush with the body, should keep u in tune.
Alright thanks for all the help.
k good luck, let me know if u find anything cool.

big warning before you put the springs on. making the bridge flush with the body will pull the strings back far and could potentially break all of your strings. so loosen them quite a bit before putting the extra springs on
Last edited by boogs420 at Jul 12, 2006,