guitar stopped working
yea.. i plug it into an amp, everything in the write direction, but apparently the connection isnt working. i get no sound at all.

ive tried 2 different amps and 2 different cords so im pretty sure ive isolated the problem to the guitar.

any suggestions?
pm with the style of guitar u have and i can help u, ive been thru this problem with both styles of outputs

Join date: Jul 2004
20

IQ
1.make sure the volume on the guitar isnt at zero on either pickup. if that doesny work see if the jack on the guitar is loose. Oh and if it has active pickups, try replacing the battery.

If it still isnt producing sound either your pickups are fried, one of youre pots (volume and tone knobs) or you pickup switch is bad or theres a conneciton that got knocked out.

Join date: Feb 2004
30

IQ
Maybe the input jack is bad. You can probably fix that yourself if you've got a soldering iron.

Join date: May 2006
10

IQ
fix that yourself if you've got a soldering iron.
If you're unfamiliar with soldering I certainly wouldn't recommend going at it with a soldering iron.
check the wiring inside your guitar see if anythings disconected
my wires have disconected lots of time on my piece of crap epi les paul
did ur input jack get loose a lot and did u screw it in when it got loose from the outside? if u did a wire might have gotten ripped off of it. If u can solder, just solder the wire back on but if u havnt before go to a proffesional

Join date: Dec 2005
80

IQ
to me it does sound like a loose input jack so does sound come out of it when you wiggle the input jack
i opened it up and i didnt find any disconnected wires, the sound is not set to zero.

i had this problem before and i just tightened the screws on the input jack and it was good to go again but now i really have no idea what to do...
when u hand tighten the input jack, u run the risk of ripping off one of the two wires that connect to it. (how to correctly tighten a jack)...
remove the jack see if the two wires are connected.
if they are then make sure that when the jack is inserted, its clicking into the arm and held tight. like below...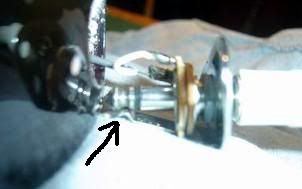 Last edited by jj1565 at Jul 16, 2006,
when i opened the jack i looked at the wires and they were both in just fine. i also plugged the cord in and it was firm just like the picture.

what are the chances of me blowing my pickups?

Join date: Jul 2006
20

IQ
depends on how old the pickups are and how often you use the guitar.

Join date: Dec 2005
80

IQ
just de-solder the wires and then re-solder them. it happens to my epi all the time and i should rewire it soon and put new pickups into it, but thats a different story for another day.
ur not going to blow ur pickups, and all i can think is that the wire either disconnected from the pot on the other side, or they look like they are on but are actually not connected well, and resoldering them might work.

(u said u swapped the cord)