Customizing a strat
I've been looking around all the gear customizing topics and i thought that my 2000 Fender Strat could do with a little touch-up.....so i need some help on what to do with it!

This is a cross between a competition and a favour for me -

So There will be rules....

- If you don't like what I'm doing here, you can leave this topic quickly
- No pointless posts
- Best idea will be picked by me
- This will be used for my strat
- Good ideas only!

I'd prefer this to be an idea within the £250 mark.
I would also prefer this to be an idea with lots of colour.
And this guitar is going to be used for punk music - so punk expectations please.

And remember....

If you get annoying or irrelevant....i will tell you.

But I'll try to be leinent!

Anyways Happy Posting!
IRELAND!!!!

Im sure if your a punk guy, you could do some logo on it, like "anarchy in the north" with the big A logo. But, that would be a touchy subject....

Join date: May 2004
490

IQ
Wow, im scared to even post a suggestion. It sounds like this guy wants to rip the head off of everyone who posts an idea he doesnt like.

Join date: Jun 2004
20

IQ
Sounds like he wants the forum to do the designing for him and he will get mad at any post he chooses....
The idea is to help each other on the forum. Not get angry at people trying to help.
And for punk I would recommend a humbucker for your bridge.
What type of color schemes do you like?
More info needed before additional recommendations
DJ

Sorry guys i won't rip your heads off! (I'm not strong enough!!!)

I like a black with any flourescent colour or the EVH frankenstrat idea is pretty cool....

I like the humbucker idea Desk Jocky, and the only reason i'm trying to worn off people who will post irrelvant suggestions - last time i tried this topic i got 8 posts calling me a d*ckhead and making me look like a retard, so you can guess why I don't want to look like an idiot in pubic...

Sorry anyways guys, Keep posting please!

Join date: Jun 2004
20

IQ
I like a black with any flourescent colour or the EVH frankenstrat idea is pretty cool....
That type of paint has been done a lot....
Do you still want to do it?
If you are playing punk why not go matte black and do some lime green pinstripes(like old hot rods)?
An idea, so you don't have to cut the pickguard (or buy a new one), look for a stacked humbucker. Dimarzio has some really nice ones that will fit, without modification of the pickguard, and they could be coil tapped. More versatility generally is better.
What do you think?
DJ
I don't want to look like an idiot in pubic...



On topic, that flourescent idea is quite good, you could do a purple (transparent-ish) base colour, and a lime green design on top of that, would be quite a cool mix of colours.
Convert it into a fat Strat humbucker in the bridge say a seymour Duncan Invader and then change the bridge to a floyd rose there u go the perfect guitar
Punk, eh?

1. Rip out the pickups and put a single Duncan Invader in the bridge...no volume, no tone, no switch. Route out and cover the extra pickup and control cavities with wood so only the bridge pickup slot is left.
2. Locking Tuners for hard strumming.
3. Block the tremolo (if it has one and you don't use it).
4. Duplicolor Illuminite (glow in the dark) or Nite Lites (reflective) paint. Personally, I'd paint a bullseye with the Illuminite and Red Nite Lite paint, then write something like "all work and no play" in the Nite Lite paint with whatever leftover Illuminite you have left. Could get pretty crazy.
5. Make yourself a clear plexi pickguard and route out shallow stripes from the back.
6. Buy 2 green LEDs and the hardware needed to turn it into a strobe light. Drill 2 holes by the neck at the edge of the pickguard and attach the LEDs there. I'm not sure if it will work the way I'm thinking, but since the plexi pickguard had recesses in the back, they should pick up the light from the LEDs, and this should light up all the stripes in the pickguard.


If I'm wrong in any of this, please be polite and correct me.
This will make me look like an idiot, but i have never EVER done this type of thing before! So when you guys talk about rewinding wires and all, it's like you're talking double-dutch!
But i was gonna get my uncle (who has an A-level in art) to help me out!
In fact, to make everyone happy and an easy job at that

- I'll Paint the base matt black, and do pairs of really thin lime green and bright purple pinstripes (between pinstripes - about 1 cm apart, between the pairs - about 3 cm apart) i think that idea is a winner! i MIght just buy better quality coil P-ups (less effort!)


Originally posted by TwoString
"...If I'm wrong in any of this, please be polite and correct me."
Well, you're not worng in a way, just very complex to me (what can i say, I'm n00bish when it comes to guitar customizing it)


Join date: Jul 2006
20

IQ
Why not just get some cool stickers and cover it in stickers?
That's a little simple, and you're not really getting into this man, are you? hehe i should've said at the start it was a paint idea!
Last edited by anarchy_skater at Jul 21, 2006,
Do this Crash Strat or something similar (tamer or wilder)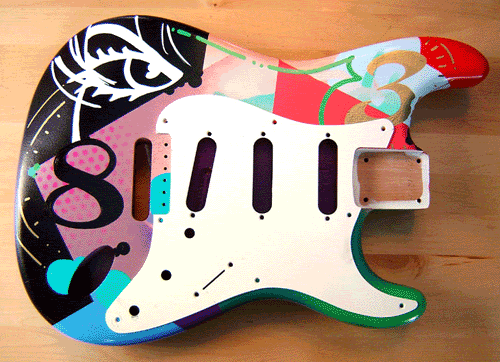 unless you don't like JM
I don't really think you have to have any skills to do the paint part...the paint I told you about it industrial...they use it to paint road signs and stuff like that, so it's pretty easy to work with. It should all finish well. Now the lights and other stuff...don't know if I can describe it well enough.
I get what you're saying now but I'm trying to save as much money as possible, I have a holiday in 4 months and i really need some cash! That's why I wanted to only do a paintjob!
Scallop the fingerboard!!!
I'm not sure about scalloping the fingerboard...

And new info. on my strat - i broke the fücking whammy bar last night, it was winded too far by my sis (who's 6) and i had to rip the whammy in half.... i nearly cried..... but ill just try and get a better bridge