Yet Another Grounding Problem
I've been having some grounding issues on my strat. I'm almost positive it's a grounding issue because as soon as I touch something metallic it goes away. I'm sure it's not interference because I brought the guitar and amp outside and there was no difference. I'm hoping someone can help me out before I end up just giving up and putting new strings on. All the grounds are soldered out of the way onto a pot. The Neck Pickup is stock Single Coil, The Middle Pickup is a Dimarizio Chopper Humbuker, and the Bridge is a DiMarzio Virtual Vintage 2 Bridge Humbucker.
I've noticed that when I have the tone knobs all the way down and have the pickup selector in Position 3 or Position 4 there is no noise, however when it goes in to the bridge position Position 5 It returns.
Whats the best way to fix this problem. Also is general buzzing when an amp is overdriven normal for say, or could this have something to do with the grounding as well.
Heres a picture of the wiring
http://i73.photobucket.com/albums/i224/take_it_t/RIMG0023.jpg
Thanks In Advance
did u swap out the guitar cable yet? and check ur input jack wires?
is there a wire running to the trem cavity?

if u did, then sounds like it could be bad connections.
can u desolder and resolder those parts?

seems like the middle pick has no problem.
maybe the bridge and neck pickup do.
I've swapped out guitar cables, I'm almost positive that the input jack wires are fine.

Theres no wire running to the trem cavity, at least I'm pretty sure. But all the wires are grounded to a potentionmeter on the top so I cant see moving it to the bridge making a difference

I can try resoldering those parts.

The middle pickup still has a problem it just goes away when I turn the knob down, but that just means that I'm turning down that particular frequency range does it not?
well, in my strats, and tele, lp and schecter there is a ground that runs to the bridge or trem cavity in the back.
yes, you can try to avoid a bridge ground by grounding to the pickguard shielding (foil)
but u might get grounding noise.
all u would have to do is run a ground wire from that ground pool to the back cavity.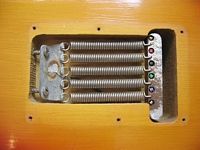 i think u can see it here between the two screws.
I just checked and I actually do have a wire going to the bridge. Didn't even know it, however it's not soldered with the rest of the grounds, I guess that may be the problem I'll unsolder and see if theres a difference.

EDIT:
Actually It shouldn't make a difference though should it, cause theyre all going to ground so it doesnt matter if theyre bundled up or not. The connection on the jack and the bridge wire are pretty loose so I'll probably fix that up. But I can't see this making a single difference. Any suggestions on what I should do. I checked hte wiring iwth stock wiring for a strat and it seems perfectly fine to me. I may just go over all the joints but thats about all i can do.
Last edited by take_it_t at Jul 23, 2006,
well its best (especially when there's a problem) to have a common solder point to ensure a good ground.

also, make sure the wries are attached to the input at the jack side.
Well I resoldered the input jack, and it seems to show a little bit of a difference I also put on heavier duty cables too. I noticed that when I play through wireless there are no grounding issues.