Nevermore's Fretless Thread
Well I just began a mod on an Epiphone Special 2 Les Paul. My first guitar, so I'm not to sympathetic to ripping it apart. If anyone makes a reference to Spynal Tap in my thread, I'll...give you a sad smiley. Anyway, I've alread taken off the nut, the bridge, the tailpiece (they may be the same thing to you guys, I'm not to well versed on anything other than a tremelo), and tomorrow I may begin defretting. The only problem with defretting is that I may have to buy a thirty dollar fret puller to get them off. I'll go through what I'm going to be doing to this thing: After defretting the neck (being careful not to chip any wood), I will mix some epoxy. I'm then going to fill in the fret slots with epoxy, spreading them with a toothpick. I'll let it dry for 2 to 3 days horizontally. Afterwards Ill check for weak spot in the slots. Then it goes in for sanding to make it perfectly smooth. I may radius the fretboard, but I don't believe I will. Then I sand the nut down, lower the bridge, put flatwounds on, intonate, etc. I also plan on buying new pickups, the original ones are horrid. I'm thinking Dimarzio ToneZones. Maybe new paintjob also, possibly done by myself. I will put up some pics tomorrow, so leave your questions, comments, flames, etc. for me to come back too.
Thanks

Join date: Jan 2006
10

IQ
Im modding my special 2 too. I replaced the pickups with some duncans and new screws. I also repainted the entire body. It was my first guitar too so i dont want to get rid of it, but I wont buy another epiphone anytime soon.
I knew that part of it, but you don't want to knock them out. You want to slowly walk them out or else you run a very large risk of chipping wood, and you don't want that.
I have a Special II too.

Most everyone does sadly. But I'll have a fretless one.

how does a fretless change playing? dont you have to fret a little further forward then normal?
Well, you basically have none of the metal strips (the actual frets) on the guitar, so all pitches on the guitar are recognized by ear rather than some marker. You play wherever the note sounds in tune basically. Most are tuned in D, C, B etc. because the strings are naturally thicker. Make any sense?
not really. im a complete noob to the idea of a fretless, but the sound of it by ear makes sense. i just dont understand why there tuned into an open tuning. can you play them in standard tuning?

the whole reason im asking is because im beuilding a guitar out of metal and was wondering about making it fretless. the neck is steel and weelded to the body so i know it wont knock it out of tune. i was just wondering how to play a fretless because if i make mine fretless then it would be alot cheaper on me and was wondering how to play one; ie if its different then playing a fretted guitar in standard tuning.
It's not played in an open tuning , I meant the strings are tuned that many steps down. Sorry about that. Well, if you're building an entire guitar out of metal, don't make it fretless. Fretless metal fingerboards sound great, but you'll most likely sound like a heel with a fretless metal guitar. That's just my opinion though. Metal doesnt exactly have a great tone for a body to begin with..

But as to the open tuning thing, it can be played in an open also. But the standard pitch thing? Yeah it's possible, but most fretless guitar tuned down so they can use heavier gauges. Anything else you'd like me to address?
no that makes alot more sense now. i misunderstood what you were talking about. but it makes sense to use heavier guage strings tuned down.
Yeah, I'm no expert, but I believe the reason for this is better tone and more sustain. Sustain is the main focus of a fretless player I'd say.
UPDATE:
Ok, I defretted it today. This consisted of me getting bored and getting out a hammer and chisel. Chaos ensued, I broke lots of wood off fretboard when the fret ripped through the side of the dang thing. So, I patched all that up, looks good. I will take a photo tomorrow (my sis has the cam) of it before I epoxy it.
I will then epoxy and let dry for 2-3 days. Photos will come during that period.

Join date: Dec 2005
10

IQ
just an idea, instead of epoxy, maybe you could slot some wood and put it where the frets were like lespaulmarshall did on his bass

put up some pictures, i have a feeling this is gonna be a sweet project
Well, I feel putting in the wood will do a few things:
Give you a bit of a cheating aspect, given that you know the distance between intervals if it were a fretted guitar (intervals on a fretted guitar are out of tune no matter what btw) and it looks horrid.
The epoxy(it will be clear) will fill in a bumps and such and keep tone well enough.
BTW, I'm getting the info on how to do this from this site
http://unfretted.org/loader.php?LINK=unfretting
I promise I'll get a few pics up tomorrow. And it is for sure that I'll have a chance to look at some pickups. Paintjob will also come into play after I actually have the neck finished.

Join date: Dec 2005
40

IQ
whoa the sound bites of the frettless on that site are trippy...never heard of a fretless guitar b4
Ok, some crappy quality pics! (sorry bout how huge they are, I left a link for the top once cause it murders in its size)
http://i54.photobucket.com/albums/g100/mattdigsmusic/100_1872.jpg
Where the neck joins the body
Pic of the body, in all it's mangled glory.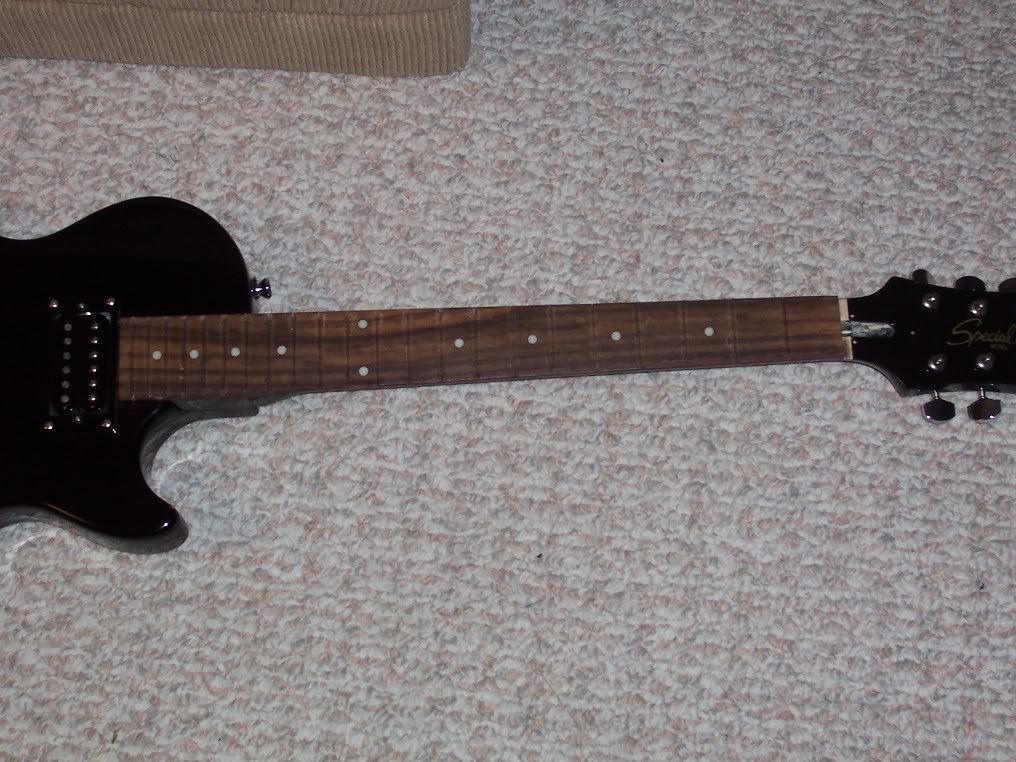 Entire neck and most of the headstock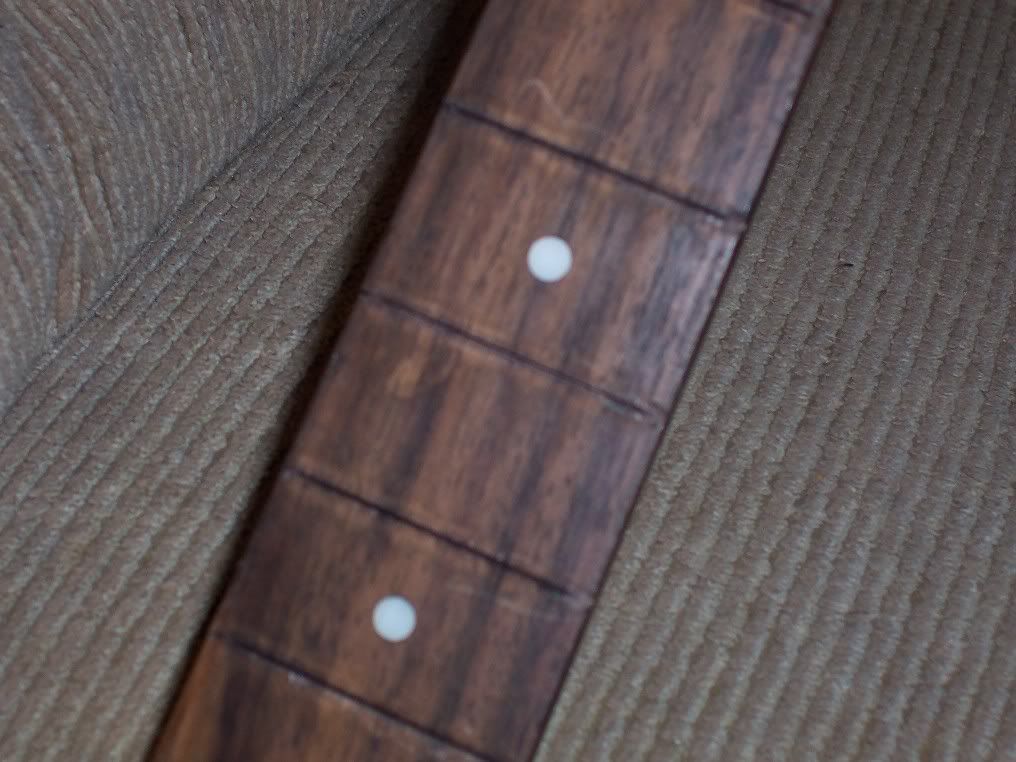 A few frets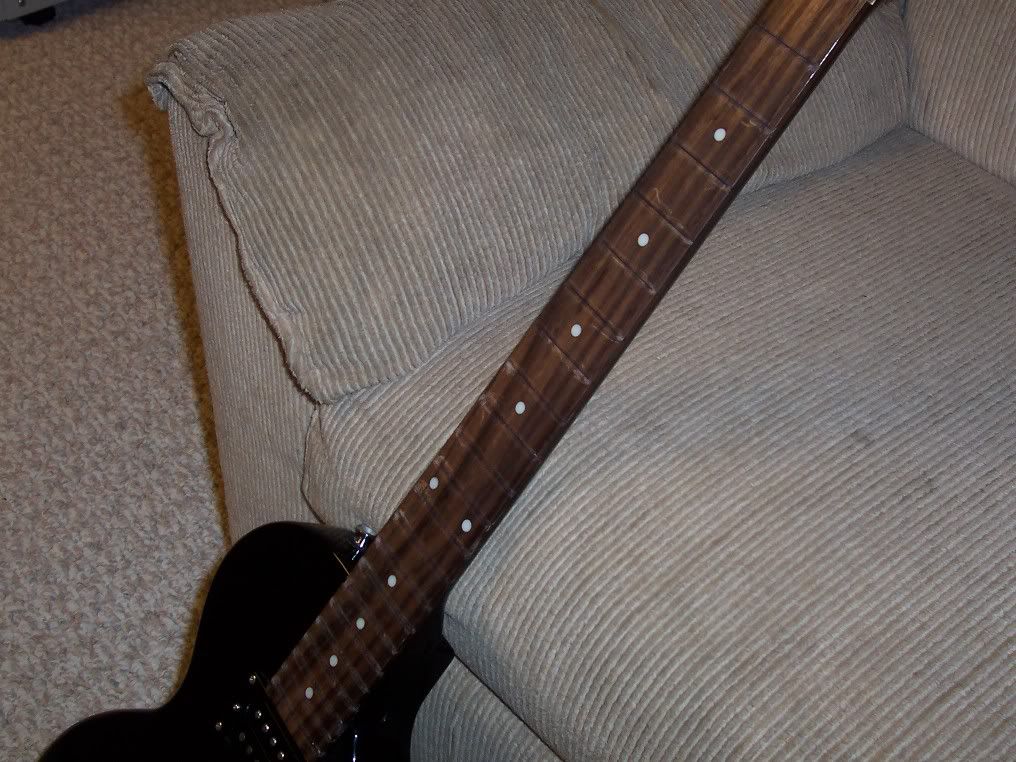 Random picture
Ok, so today my pop is picking up some clear epoxy for the fretboard. I'll have him take some pics while I'm going through the process of filling them up.
you could stick some contrasting wood in the frethole...
sounds like a fun project, the idea of a fretless guitar sounds cool

I'm already positive I'm going with the epoxy. I don't want it to be noticeable at all that there were once frets on the neck. Of course I'll notice it while playing, but a few feet away and the neck will look perfectly filled in, same colors etc. As posted before, I don't want that cheating aspect.

The only thing I'm really worried about now is getting the neck sanded down PERFECTLY straight. That'll be the hards thing to do.

Join date: Aug 2004
170

IQ
wow, stright in there..good job

Join date: May 2006
40

IQ
sounds like a cool project, good luck
My rather sloppy epoxying job. LOTS OF SANDING TO DO IN A FEW DAYS.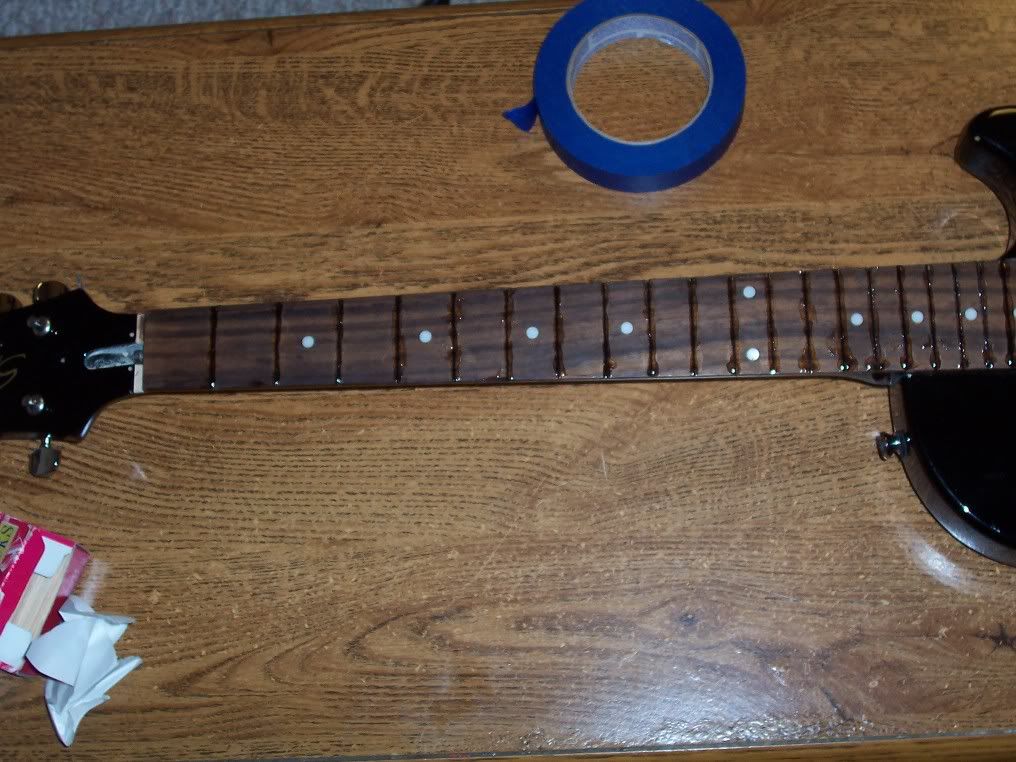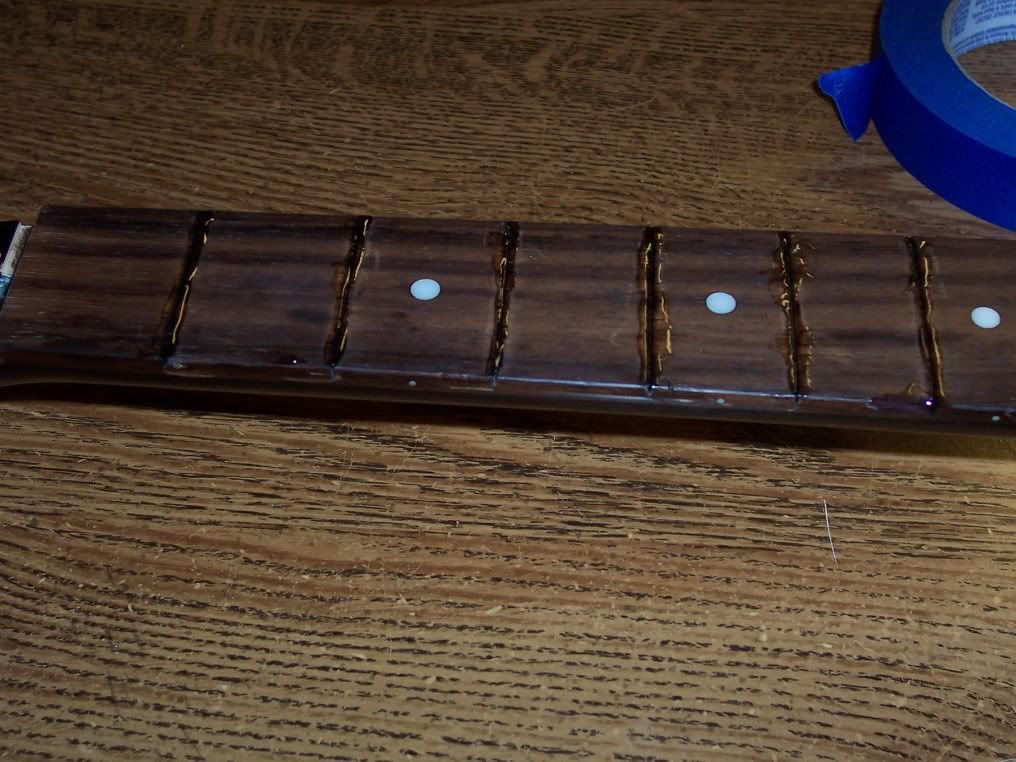 Join date: Jun 2006
60

IQ
lookin' good

maybe you could take off the 'rhythm-treble' thing off, maybe get one with 'tits-ass' on it.

Join date: Sep 2005
310

IQ
lookin' good

maybe you could take off the 'rhythm-treble' thing off, maybe get one with 'tits-ass' on it.
That's about the best idea I have ever heard.

That's about the best idea I have ever heard.
*e-hug*

Awesome (and original) mod idea! Looks great so far.

good luck sanding that, hope you have a belt sander cuz sanding epoxy can be a pain.
ah, you don't want to use a belt sander. I'll be using a sanding block, the fret board need to be ABSOLUTELY FLAT. but I wish.....
Isn't there a type of sander that is used for sanding large areas like that PERFECTLY flat? :\
lookin' good

maybe you could take off the 'rhythm-treble' thing off, maybe get one with 'tits-ass' on it.
WIN! D: *Mails an internet over to you*