Epi?
i had this guitar for 2 years and it says "Epi" on it.
I always thought it was an Epiphone but someone told me it was a different brand name.

Can someone help me?
Last edited by jj1565 at Jul 31, 2006,
hey jenny hows it going?

It could be a copy, just because the E is written in the same way doesnt mean its genuin, Ibanez Jem copies are flawless.

post a photo
well mine the body looks like a strats body.
well mine the body looks like a strats body.
.....o...k....iv never heard or seen of an Epiphone like that. Its likly to be some low end brand that no ones heard of like Vintage.
hey jenny hows it going?

post a photo
pretty cool, just killing time till dinner.
yep, post a pic, and i thought that epiphone had a line with just Epi on it.
but i could be wrong.
Regardless of wether they make models like that or not im pritty sure Epiphone have neevr made guitars with strat bodies. I'll research it some more.

Join date: Jul 2006
10

IQ
Ive seen an Epiphone Strat before.
And it was actually a good guitar.
Epiphone made low-end Telecasters(rare) and Stratocasters in the 80's and 90's. Most of them are either Red, White, or Black with an explorer-esque or a strat/ibanez style headstock. You can almost always find a couple on eBay going for between $100-200.

Epi and Epiphone are made by the same people.
mine looks exactly like that.

Join date: Jan 2006
10

IQ

Join date: Aug 2007
10

IQ
hmm kinda looks like mine...my ser number was S93080410 so im guessing it was made by samick in august of 1993.Its all original sounds extremely well just right for the punk rock style i play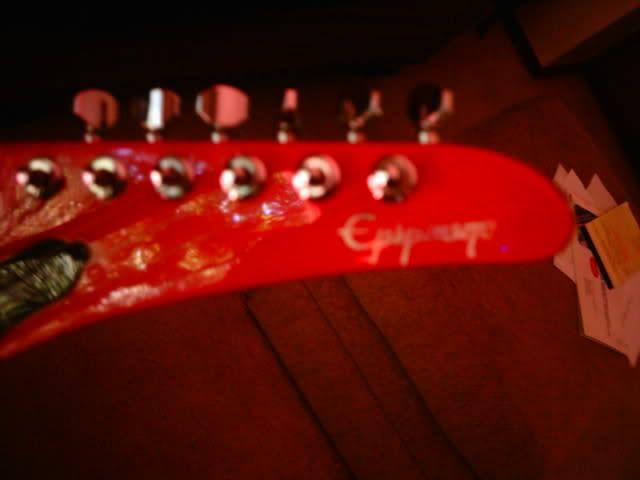 Last edited by jj_epiphone01 at Aug 13, 2007,