Custom paintjob
OK, I am gonna give my squier a nice paintjob...Im thinking of going for a cool Iron Maiden theme. I just need some ideas of what I should do. One thing that I think would look really cool it to put a picture of eddie, and where his eyes should be I want to add some LED's. So, if you guys got any cool ideas, let me know. And once I get started with everything, I will add some pictures to see what you guys think of the outcome. And this is my first time customizing a guitar.
Thats Sweet!
I love guitar restoration!
Last edited by blam521 at Sep 2, 2006,
sounds good, I would like to do a EVH style paintjob too, but I have never been the biggest Van Halen fan.
well here what you have to do.

-get a roll of thin painters tape and regular
-paint a solid color of your choice, this will be your detail color, i know its a waist of paint but it has to be done
-put the painters tape where you want the stripes to be mix thin and regular evenly for a consitant tone
-dont go for a definate pattern just go wild
-paint over the first color with a color like white black, or something else. its your guitar.
What im thinking of doing is doing a black and white EVH style, and im gonna add this picture on the front
And Im gonna put this one on the backof the body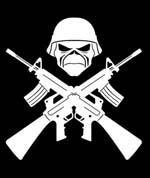 And Im gonna make it say Iron Maiden somewhere on it. I am also gonna upgrade my neck to a maple fretboard, and add some LED's in where the eyes are on the yellow picture
Cool! But for the background don't go jet black! Add some subltery! Dye the wood a DARK color! EMG Style!

hey, if your gonna do those ics, dont go evh style, do one body color, like dark red or black or neon pink, whch is really cool for real.
hmm to tell the truth, I dont really want to make an Iron Maiden themes paintjob anymore, I owuld like to just do the black & white EVH guitar.....I dont know right now, Ill see I guess

Join date: Dec 2005
60

IQ
it would be sweet aswell to do a iron maiden trib , im doing a yamaha rgx 420s (discounted model muahaha) and im gonna do it in camouflage , the camouflage colours of a ww2 spitfire , blue grey and olive green , maybe the eddie gun logo on there somewhere , i mean you could do that OVER-USED EVH paintjob or you could do a sh*t hot trib to iron maiden , think about it , dont rush into it make your own personal signature instead of just copying someone elses make something special.
too late, I allready made the EVH, but Im gonna get another blank body, and make an iron maiden one.