buzzing sound.. HElp
hi all, whenever i hook up my guitar to my amp it makes an annoying buzzing sound, and the only way to stop the sound is to firmly push and hold the lead connected to my pickup. its as if the cable does not want to stay all the way inside.
i really dont know if its a lead problem because ive already tried 2 cables and the same thing happens.

any help much appreciated.

Join date: Dec 2005
40

IQ
do you have single coil pickups?
i have two humbuckers and a single coil.

Join date: Aug 2006
10

IQ
Im also getting the same problem... i thought it was my amp because ive gone through many cables and im also getting no difference in the buzzing. I have an extremely small amp so i thought if i upgraded it i would get a better sound quality.

Join date: Dec 2005
80

IQ
it actually sounds like your input jack is loose and the wires inside are loose. reply back if you wanna go and fix it yourself
Yes please tell me how to fix it myself.
thank you.

Join date: Dec 2005
80

IQ
well ive got no pics but jenny or mad should have a guide on how to fix it. but yeh what guitar is it on?
azn is correct, sounds like the plug isnt clicking into the jack, and the movement is causing a buzzing noise.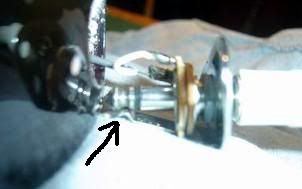 remove the plate, make sure the plug clicks over that bump.
if not u can bend in the arm a little. so it fits better. also, u should be looping the guitar cable over ur guitar strap peg.
i checked inside and it is clicked over the bump.
here is an image of how it looks inside
and here is how it looks from outside.
does the bump need to be only touching the middle part?

Join date: Jul 2006
10

IQ
Actually I know exactly what your problem is... I had the same problem but I fixed it myself. Check it... You get a buzzing sound because either your wires inside the jack are falling off or possibly ripped off or the nut on your jack is loose. All you have to do is reconnect the wires by putting them over the correct reciever and twisting them back on... One wire is a possitive wire and the other is a negative wire... just like the wires on your stereo and everything else that is audio related hmmm. So just put them back in place... make sure their tight and don't budge. This will need patience and good hand coordination... but you play guitar don't you so get to it!
at first u said the cable was falling out. and now its buzz free only when it's not sitting on the jack correctly.
so i suggest u resolder the two wires on, make sure they are tight.
and that the jack parts are tight.
it needs to sit over that bump if ur going to play.
sorry i couldnt see what was in the last two pics.