redoing a squier strat
ive had a deluxe series trans satin strat HH since the beginning of this year, and in the spring removed the neck pickup, replaced the bridge pickup with a gibson dirty fingers, and repainted it twice. the neck pickup removal was done sloppy because i rushed it and both times i painted it i didnt do the greatest job. what I plan to do is cut part of the headstock, sand it down (its red and has squier written real big across it) sand the entire guitar back down, cut part of the body off, and basically make it to look like an airlines guitar (similar to jack whites.) Keeping the dirty fingers in the bridge. picking up some locking tuners, and doing a few little other odds and ends. RIght now i need ideas for paint schemes (has to be simple) and other mod ideas. Ive been hearing about a kill switch mod, does that basically cut the power from the guitar to the amp? cuz that would be great...pics soon but they will be crappy due to my crappy camera phone.
wait how do I add images?
you should paint it solid white with a red tortise(sp) shell pickguard. and then get gold hardware
what are some good sites to find custom parts? and what about the kill switch?
wait how do I add images?
PhotoBucket.com
The kill switch can be almost anything.
STeck the sticky for sites to find parts.

Join date: Jun 2006
60

IQ
well, for mods, the tuners would be a good idea, you could change the neck pu too, just so you get a more balanced sound since you got a really crunchy dirty fingers... tortoise pick guard would be pretty sweet too. you could do something oldschool to the paintscheme like if you wanted you could paint it like an off white or like really white yellow and paint 2 thin blk racing type stripes with like a thin hawaiin/tribal stripe down the middle.? i have that scheme on my skateboard and photoshopped it on my MIM it looks pretty cool.
I stole my killswitch from an old vacuum cleaner..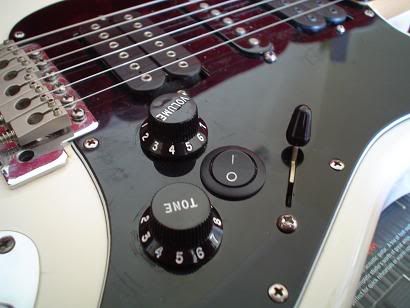 A kill switch can be almost anything. XD Really! It's the shmatic that counts. D: But that's also easy! XD
haha I like the vacumm cleaner switch. ok I searched killswitches and learned as much about them as I could. Last night I hand sanded the headstock and drew lines where its gonna be cut. as far as a neck pick up, no dice, I already filled it in and I have another guitar for that. this guitar is all about uberfeedback and yeah..Ill try to upload some photos before the end of the night. going to buy a black n decker mouse after work tomorrow if time permits so I can start gettin rid of the 3 layers of paint. also decided on schaller locking tuners. they seem pretty nice.
pic of it how it looked when I bought it.
as of yesterday.

How dare you destroy the original finish. It was so shmexy.


Join date: May 2006
70

IQ
Im just wondering... Why did you want to remove the neck pickup?
Dude. it looked so much better origionally
you could have just drilled through the finish!

yeah cuz i was on a whole be like tom delonge kick so i removed the pickup, 5 way selector, bought a dirty fingers, and did a real bad job filling in the hole. i originally repainted it blue, and then got drunk one night and drew all over it with a magic marker. it does look like crap now but it still plays good which is really what matters.

Join date: Apr 2006
10

IQ
You're a ****ing idiot. I think i speak for everyone. <3

-The Fender-
Join date: Nov 2005
10

IQ
You're a ****ing idiot. I think i speak for everyone. <3

-The Fender-
You know you're on the internet when something like this nice quote is actually true.
Also:


WHY GOD, WHY?

Join date: Mar 2006
70

IQ
dude, you ****ed up bad.


you couldve played Toms **** with out screwing up your guitar.
ok well the original pickups sucked. i didnt want a neck pickup because i wanted a guitar that was simple and clean. now im going to change the shape of the guitar and, IM SANDING AND REPAINTING IT RIGHT THIS TIME. so u all can call me what u want.
oh and lets not forget about van halens guitars..cuz he didnt butcher them up but amazingly...he still played them and sounded great!?!?!omg i cant believe it???!!!!!!!
I would have kept the original finish. Maybe just sanded the headstock to give it a more natural appearance. What were you thinking...
Woah, youre the first person I've ever seen that had the same guitar I do
thats alright i just started sanding today and took a hacksaw to it. looking good despite what all you ppl think.
nowhere near being done shaped, and the back still has to be sanded but the front is totally done as of a few mins ago, so gotta sand the sides, the back and finish shaping the top. painting it white with something black

Join date: Jun 2006
60

IQ
holy hell, sorry dude, but i think that you should have kept the normal shape. here's what I would have done.

*sanded it all down
*cut out room for a strat set up
*painted it a deep metalic green or a nice red color (or alpine white)
*sanded down the neck and head stock
*painted then both whatever color your body is.
*NOT CUT THAT SHAP OUT OF IT!!!!!!!!!!!!!!!!!!!!!!!!!!!!!!!! (it looks like a flower)
guitars and flowers dont go good together...


but i guess you could pull something good out of it as it is...

Join date: Mar 2006
20

IQ
I don;t like it. But hey, it's your guitar.

If you're happy with it, then good for you! Don't be discouraged by negative feedback

But do try to learn from this. ANd dude, route over for a neck pickup.
Hacksaws are for metal, not poor, helpless guitars.

You're a ****ing idiot. I think i speak for everyone. <3

-The Fender-
you do
yeah you all can say what you want but i have another strat, and to be honest im tired of all the same guitars running around. i wanted something unique and thats what ill get when im done, lets not forget it will still PLAY THE SAME, AS IT DID BEFORE
and like i said...its not done yet, i still have to finsh sanding and figure out the final shape.

Join date: Apr 2004
30

IQ
I fI were you, i'd take the electronics out, but hey... it's your guitar.

Join date: Apr 2006
282

IQ
YOu really need to setup your camera and take photography lessons.

Join date: Mar 2006
20

IQ
Like trickmaster says, when you're sanding and painting, take your electronics OUT dude..
its a camera phone and its all i have
bump! I wanna see how this turns out. Updates!

Join date: Jun 2004
20

IQ
and like i said...its not done yet, i still have to finsh sanding and figure out the final shape.
What shape are you going for?
I would continue on the shaping bent (now that your on it) as it looks like a strat with a big section just cut off (which it is).
Planning the shape ahead of time, and the methods used to get it there, is essential before you cut.
Good luck and thank you for sharing your custom guitar with the nay-sayers at UG.
DJ

Join date: Dec 2005
10

IQ
I vote you take the whole bottom horn off.

And itd be a lot easier to sand if you took the electronics out, unless you dont know how to solder/dont have a soldering iron/all of the above.