Setting the action on a string thru

Join date: Jan 2006
60

IQ
i know that its on the forum some where but i cant find it

so if someone could show me where or just tell me how that would be great

its a washburn x50pro if that matters
there should be two screws on the bridge...loosen them to raise the action, tighten them to lower it. at least thats how it usually works on a tune-o-matic bridge.
Is it tune-o-matic > string thu body? If yes, you need to loosen your strings and on your tune-o brigde there's two "screws" you can fiddle with.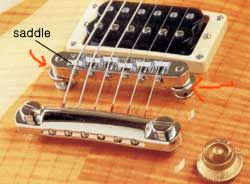 loosen the top screw and turn the thumbwheel up and down on each side to raise and lower the bridge. thumb wheel, pointed to by red arrow.
logz pic.