todds godin customization thread
hey ug, im going to be customizing my godin sdxt as soon i get funds with

1.new paint
2.new tremolo(probably wilkonson)
3.graphtech nut
4.graphtech string trees
5.new pups
6.new electronics
7.new pickguard (black)
8.locking tuners
9.silver knobs

all hardware will be black

tell me what u like/dislike and ill keep u updated!
Good idea. I love my Godin, but a nice tremelo and pickup upgrade would be nice.
yeah im not a fan of the trem on it, and im getting wcr pups for it. can u suggest any other trems that will fit? im not even sure yet if the wilkinson will.
Im not sure about wilkinson, but I definately think a wilkonson on a Godin would be amazing. Also make sure you put good locking tuners because my Godin never stays in tune. I will be at a show and tune it right before i play, then magically its out of tune...
lol, yeah, im hoping the graphite nut and sperzel locking tuners will take care of that.
how hard is it to cut a new pickguard? what would i need for cutting the pup holes?
I dont think cuttig a pickguard is hard. Ask Jenny, she just cut one for covering a place she cut out of her guitar so it was lighter. And you need a router for cutting pickup holes I think.
how hard is it to cut a new pickguard? what would i need for cutting the pup holes?
do u have a router?
if it's going to be visible, to do it right u should use a template, and trace over it with a router.
mine was on the back, so i took my time was able to shape it with a dremel.
the routing for the inside cavity was done with a forstner drill bit and a hand held drill.
dont think i would use anything held held for the front of a guitar tho. just not as exact.
Hey Jenny, what kind of Les Paul is that? Is that a Studio or one of the girl ones?
epi studio, vintage brown.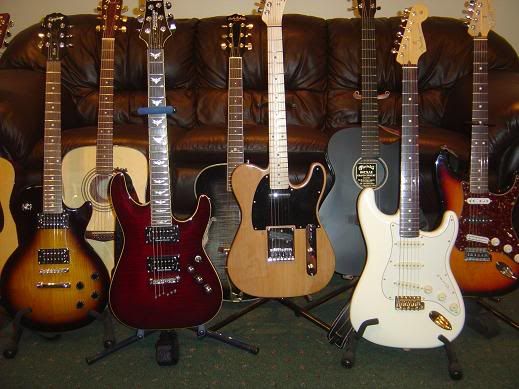 sorry TS this is really my only pic of front of it. off to left.
ohhh... purty guitars. I especially love the Fenders.
ok thanks, i dont think i have a router here, i can probably find one to use though.

edit: can i make my own templates, i dont want to buy one.
Last edited by DBS_KICKS_ASS at Aug 9, 2006,
if ur cutting the edges ull want a nice bevel to it. if ur just cutting out a hole for a humbucker, its probably cheaper buying a premade one.

if ur just looking to cut a pickup hole u can use a thin saw and a template. it comes out a little rough looking tho.

yes u can make templates. there are sites where u can download then transfre the picture to a home made wood plank. something that will hold up to a drill.
Last edited by jj1565 at Aug 9, 2006,
i need to make one completely from a blank, nowhere sells godin pickguards, and im taking the single coil out if the middle so i wouldnt be able to get it how i want anyway.
Last edited by jj1565 at Aug 9, 2006,
yeah, i dont have the money for a custom one, i dont know if i can buy the bevel cutter either, my dad might have something similar though.
yeah, maybe modding the current guard will come out better than making one from scratch. (using plastic to fill the hole) because without that router bit, its not going to have a "finished" look.
and the router and bit will cost more than the guard will.
could i just take some plastic and glue it there and then paint the hole thing black?
yeah, its hard to paint plastic. but u can probably find some black guard that u can cut to fit.
can probably put duct tape behind the guard sticky part facing out and stick the new plastic to the tape to hold it in there.

cheap but effective.
hmm, i want this to look really professional, i think ill be able to cut one, my dad built cabinets for many many years so he has some routing ability. if not i might just have to shell out for a custom one i guess.
yup, thanks for all the help so far jenny :-D
well give it a shot, pick up a blank guard at stewmac or some place, make a template from the old guard, its all good.

ok, i havent gotten really anything done yet, i have no source of income right now. also, sorry for no pics, my cameras been missing for about a month. i HAVE decided im going to add a mid boost circuit to the tone pot.
http://store.guitarfetish.com/midbocictoat.html
i need help deciding on a color, i want to do a dye, but i cant decide.(right now its a see throughish blue)