sg goth action
what can u do to adjust the action on an epiphone sg goth series
loosen the bridge screws, that will alow u to move the thumbscrew up and down on either side of the bridge.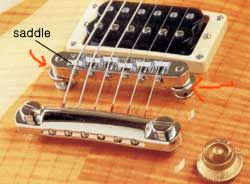 thumbscrew pointed to by red arrow.
logz pic
the bridge screws are on top of the thumb screws rite, and i did move the brideo screws if thats what i thought, and it just moved the thunb screws w/ them
hold the thumb screw, loosen the bridge screw alittle and it will loosen everything on that post.
after that move the thumbscrew up or down to move the bridge up or down. and keep the bridge as straight as possible.
i use the 11's diadarrio strings i th8ink i went from the orange diadarrios(gunno what gauge), but they were smaller than the 11's do i need a big adjustment
u should know the adjustment u need by looking at ur guitar.

a thicker gauge will give u more neck bend and make the action seem higher.