thesumoftwo's first pedal build
howdy all!
thats right, after much deliberation over what to build, when to build it, what way to buy etc. i finally just went out and bought all the components i need for a Ross Comp. I'm extremely excited about this and i am only waiting on the CA3080e IC, the 3PDT switch and i forgot to get input and output jacks, but other than that i have everything.
Anyway, here's some pictures of the components etc. and my new soldering iron and solder

i should include a pic of the old stuff sometime so you guys can see that i really was in the stone age. Anyway, without any further ado, i present to you, components!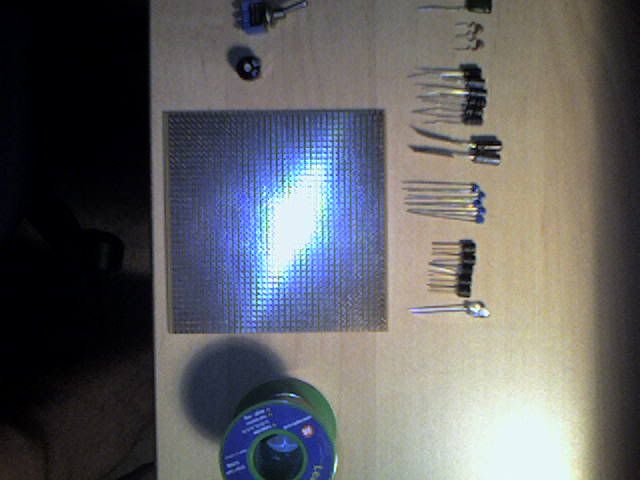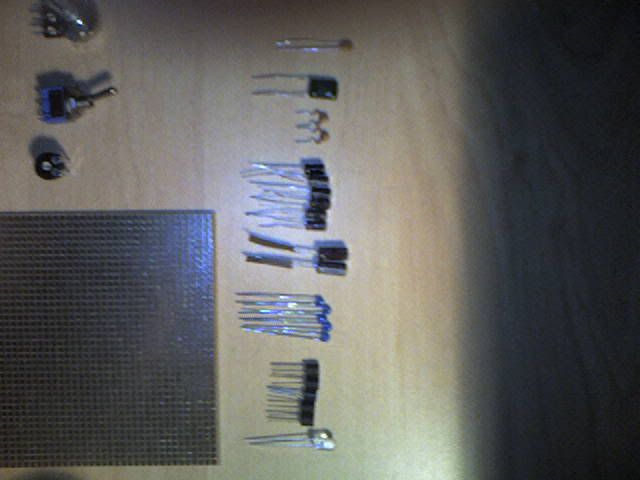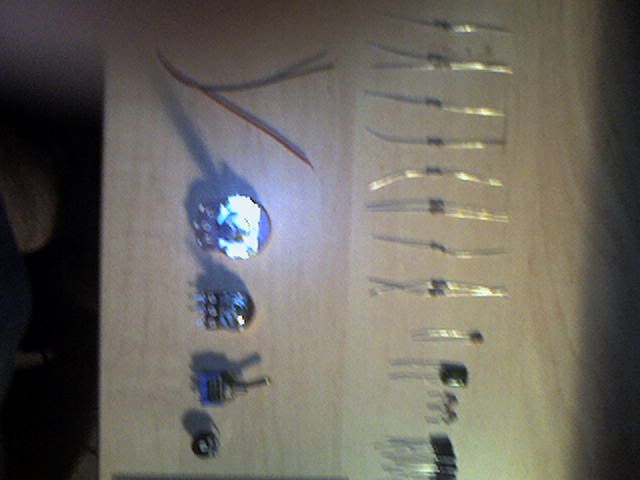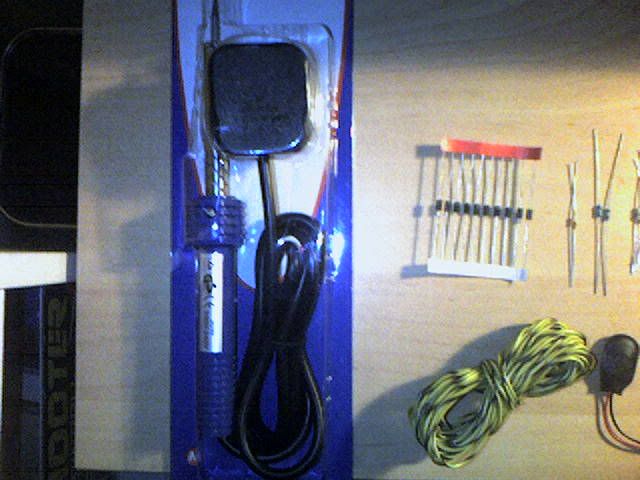 I'll organise the components more tomorrow, but until then, goodnight!
Wow its about time you started! haha good luck man. Cant wait to see how it turns out.
i know its been like two months since i first thought about it, you started, finished, started again, finished again, played around, designed and set up your own mini business type thing all in the time it took me to get started


Join date: Jul 2006
10

IQ
Sounds cool! Are you going to do a step by step tutorial?

Join date: Aug 2006
10

IQ
Sounds cool! Are you going to do a step by step tutorial?
yeah you definately should.
i forgot to order my 10K resistors, i should have them by next week at some point, i'll do a step by step tutorial for it if you all want, but i may no have the time to build for a fortnight yet, i go on a survival expedition next sunday

Join date: May 2005
686

IQ
Survival expedition...
Well I would say "Good luck with the pedal," but seeing as this is a "survival expedition", "Good luck with your life."

What kind of survival expedition is this you speak of? Good luck with it and with the pedal also.
we walk 162 Km in 5.5 days with minimal food and a tarpaulin sheet for a shelter. we're walking across the highlands, so the 162Km is as the crow flies, not taking into account footpaths which never go in a straight line, and walking up and down hills and mountains.

Oh, and did i mention that we are carrying a burgan on our backs which weighs atleast a 3rd of our body weight?
sounds awful, but it is fun really.
And back onto the subject of a pedal, it's a 3.1mm DC power jack that i need for standard Boss 9V adaptors right?
i still havent got all my parts but i decided to make a start with what i do have, so i cut the veroboard and soldered in the resistors and the diodes.
PICS:
veroboard cut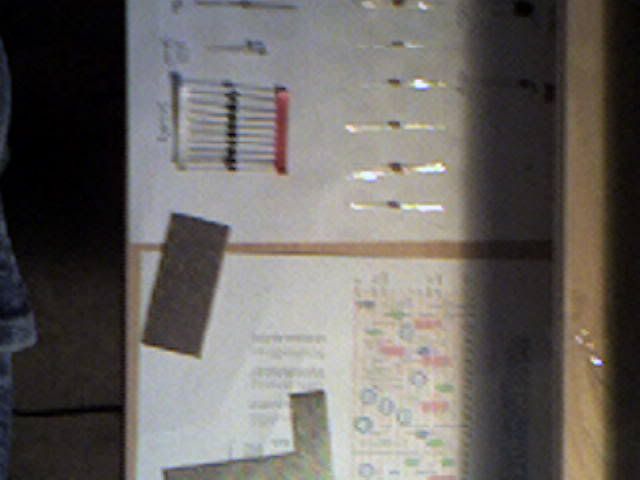 cut veroboard again, also you can see how i organised the components

god im a geek
half the resistors in place under side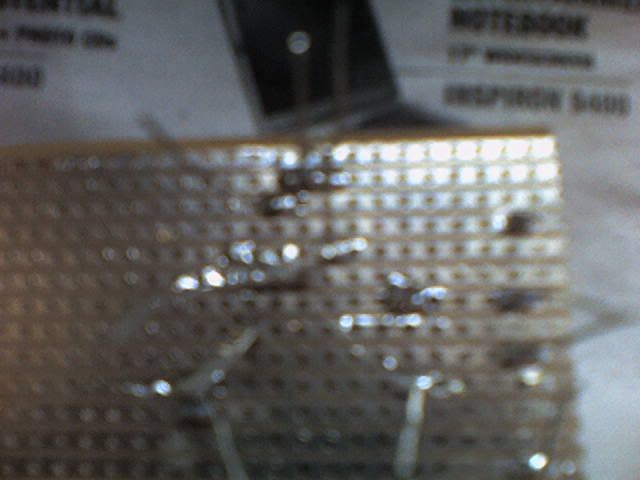 half the resistors in place underside angle no.2
half the resistors in place top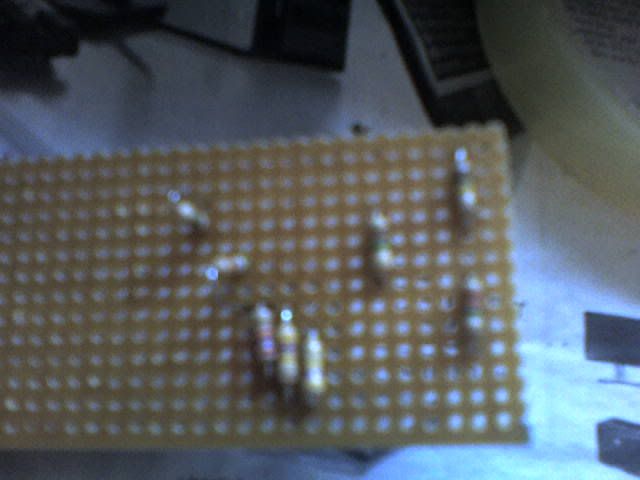 half the resistors in place top angle no.2
sorry for bad photos, will get better ones eventually, but the way i see it it's better than nothing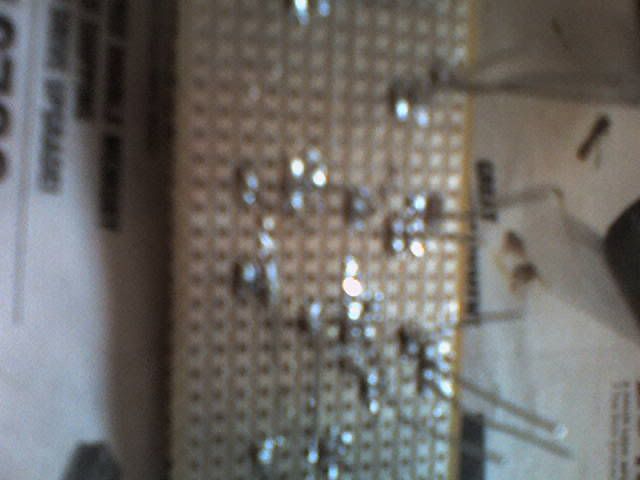 all resistors in place underside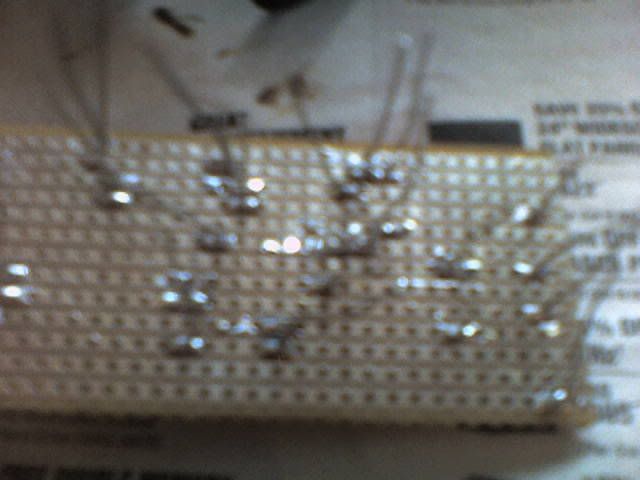 all resistors in place underside angel no.2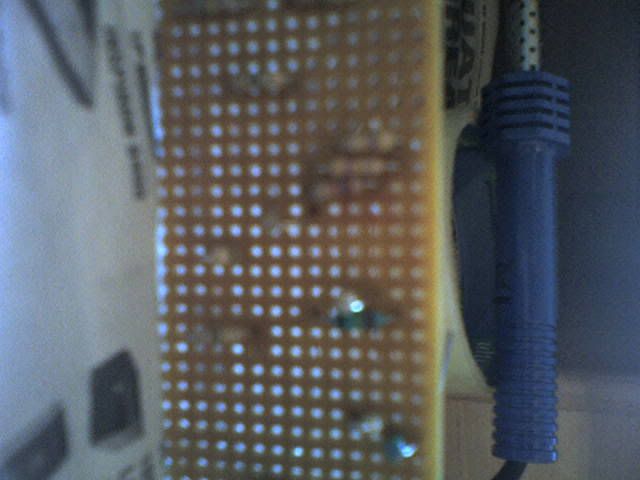 all resistors top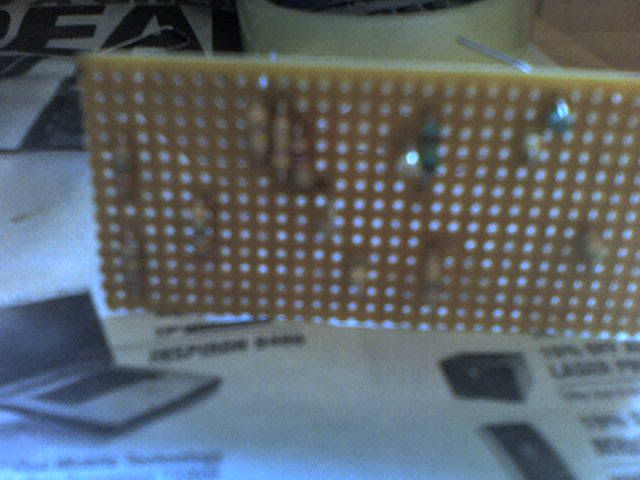 all resistors top angle no.2
cool...

See, I told you it was hard to get non-blurry pictures! haha
Thats cool

Good luck on the build thesumoftwo

cool...

See, I told you it was hard to get non-blurry pictures! haha
I'm using my phone lol.
and i dont think anyones very interested, until the soundclips
oh haha.

no, people are usually interested in the pictures and sound clips. mostly the sound clips, but I like the pictures haha.
Pictures make everything seem better =]

&& good job with the build so far.
everyone is past their pedal phase right now, shame though. Oh well, leavesus being cool

haha exactly. and just wondering, how did you cut that veroboard?
craft knife until it was thin enough ti snap cleanly lol
haha yea i use a box cutting (razor blade thing). I was cutting a IC socket and it also snapped straight off. I was home alone and couldnt find it so I was scared I would step on it. I looked everywhere but couldnt find it. My dad found it right on the table next to where i was using in :p . But we have like a million extra blades.
Any progress on the pedal?

Join date: Jun 2004
30

IQ
yea any progress also you started august 8th and still not done.
haha, i have been completely swamped with work and the such, i haven't even had time to order the IC the ins and outs, the switch and a few more resistors, i did get all the caps and diodes in place though, i can go and take some pics of that if you want me to?
where did you get the schems?
i used a layout from aronnelson.com/galery great site
i used a layout from aronnelson.com/galery great site
Hi i like what ya doin so far, I tried the aronnelson.com in my search & came up with a page not found can u post the correct address please , as im interested in doin some pedals (im a tech so could b of use 2 u if u need some over internet help) keep it goin. The BUZZ when u get ya stuff goin (especially if ya have heaps of drama) is emmence!!! Have fun doin it that is the key & all of a suddun 2 or 3 hours have gone by & hunger wakes u from your work freenzy (4 want of a better word) COOL later
thanks pink i had a quick look then came back 2 say thanks goin back now