Fret buzzing
Hello guys..
When i try to fret the fifth fret on the 6. string it's buzzing like there's no tomorrow.. How do i fix it? I got a strat style bridge..
Thanks in advance..


Join date: Jul 2006
200

IQ
You can raise the action of the strings with the allen screws on the bridge saddles, which should get rid of the buzz.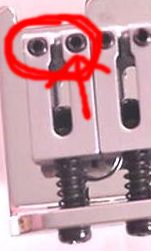 like said. u lower to raise the saddle. use a tiny allen wrench.
phil's pic.
Thanks