Wiring Help!! Urgent!!
I ordered a superstrat wiring kit from guitarfetish. My brother wired it up for me and then when i plugged it in all i got was feed back. I think its the ground but im not sure. Am i still supposed to ground to the tremolo claw? Here is a pic of the diagram
Could someone edit the pic and put the wires for grounding to the claw and wires to the jack? could someone also make some instructions to go along with it? Im pretty confused about the wires.

Join date: Sep 2003
10

IQ
I am pretty sure that grounding to the trem claw is what you're supposed to do. I am not an expert by any means, but I am pretty sure that is your problem. Either that or your wiring/soldering is shoddy.

Join date: Sep 2005
60

IQ
Here, I made a different doodlygram..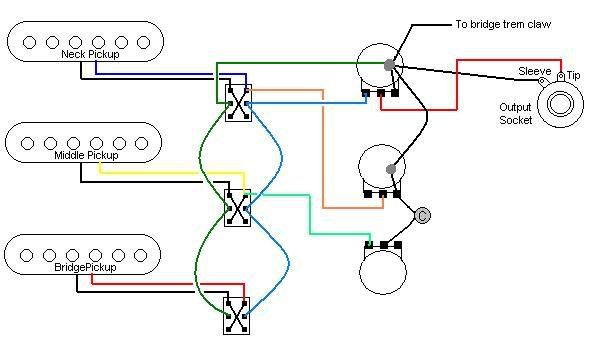 Maybe it's a little clearer. If it doesn't work, check you don't have the wires on the jack the wrong way round.