Did I Screw Up The Strings?
Hey

I just tried to restring my guitar since I haven't done it in a while. I guess I must have done something wrong b/c when i try to play the strings at higher frets (10 on), the note does not sound. Sounds like a mute string.

I think something is messed up. I dont know the name of the part of the guitar. I have a Epiphone LP. Should the string be resting on the pickup at the end of the guitar? (the pickup near my right hand where I feed the strings at). Well, i noticed that was happening at first, so i raised some part where the strings lay on (bridge)?.

Can anyone give me any ideas what may be going on? maybe i bent the strings when i tried to restring it?
Last edited by billru44 at Aug 11, 2006,
its hard to tell from what ur saying but i think u just need to raise the action a little.
How do you raise the action
Sounds to me like you need to lower the pickup...depending on the strength of the magnet, you usually need to make sure the pickup is about 3/16" away from the bottom of the strings whenever you fret the string at the highest fret.
Well, I've never touched the pickup. So, I'm thinking it's either the bridge height or it's the strings themselves.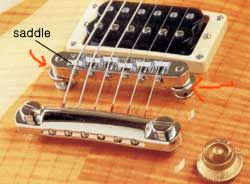 to raise the action u turn the top screw and that will make the thumbwheel loose, pointed to by red arrow. u turn that whell up and down.
to adjust the pickups, if the strings are laying on them...
blue lines up and down.
I think its the pickups, personally.
OK i raised the action and now it is fine. thanks!

Join date: Sep 2005
310

IQ
Jenny saves the day yet again with pictures.
Your computer must be filled with so many helpful diagrams that you have no room to put music, I think.