Muse Guitar!?

Join date: Dec 2003
172

IQ
Usually he uses customised Manson guitars. I dunno if he did in those days, but check that out anyway.
it looks like some sort of electric resonator. dont know the make though.
Ive been on the Manson site, in the matt bellamy section but they only hav three of his guitars, none of which is that one
Looks like a Dobro Resonator to me...
This one
It's some sort of Resonator, the one Keyser posted looks about right. For the past few years Bellamy has been using Hugh Manson guitars, which are very expensive and highly customised with many built in effects; lasers, wah probes, Zvex fuzz pedals etc.

Although he does have numerous customised guitars, you will rarely see them anymore as he tends to stick with the Manson's

Join date: Feb 2006
10

IQ

Join date: Jul 2006
20

IQ
oh if anyone reads NME, they have a i want to sound like..... section, last week they had muse, and apparently all of matt's guitars are designed from scratch for him

Join date: Dec 2005
80

IQ
oh if anyone reads NME, they have a i want to sound like..... section, last week they had muse, and apparently all of matt's guitars are designed from scratch for him
yeh his Manson guitars are all custom made from him, generally the shape is the same like the shape is just like a tele but the upper horn is stretched out a bit more
Ya they are manson, heres the electronic in it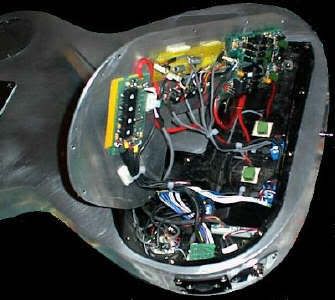 ****ing crazy