Strap for my Acoustic Guitar

Join date: Aug 2005
40

IQ
I don't know if it helps but I have a Yamaha FG700S and can't figure out how to put it on.

On my electric, I could just put the two holes on the two knotch things.

Please help, I'm a n00b.

Join date: Sep 2005
10

IQ
u gotta use a rope or old shoelace to tie one end to the headstock, under the strings
Put one end of the strap at the strap peg at the bottom end of the guitar, and take a piece of shoelace or something of that matter and thread it through your strap. Then tie it under the strings directly behind the nut.

Join date: Aug 2005
40

IQ
Are you sure? Would it be highly visible?

Join date: Mar 2005
172

IQ
it would be sumwat visible... but look at everyone elses... unless they had another strap thing put on they have a shoelace..... its classic acoustic look.... just go with a shoelace... its easy and doesnt look bad just dont have too much shoelace between the guitar and the strap
i have a fg700 also. tie one end on the knob on the end of the guitar, the other use some kind of string and tie it under the strings around the neck near the headstock.
your strap should look somewhat like these (with the string)...or you could go bye one of these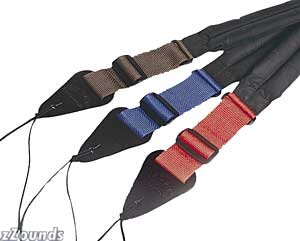 I think most acoustics only have one strap button. This is how it should look with the shoelace

Join date: Apr 2006
130

IQ
Or if you're really vain...you can mount a second strap button on it. I got mine done for like $12 at the local shop. You can do it yourself for a third of that.
what hieght does any one else use unlike the pic of that dude i have my acoustic at a hieght of just above my knees like a bass player i have long arms so it helps doesa any one else use this hieght????

Join date: Jun 2006
70

IQ
You can play with it slung that low, but it'll limit your abuility...or at least your posture. Even with long arms, you'll probably find that you'll play better if it were at waist level.
i tried up high like it is supposed to be put isnt as comfortafle as it is down low and it doesnt do anything bad to my posture or ability.