New guitar, strings buzzing...
Got a new electric guitar, a fender aerodyne strat, and the strings buzz... I wouldn't say I'm a hendrix, but I'd like to think I can play the guitar fairly decently, so I'm certain its not my technique, and anyway, I have two other guitars which don't have the same problem, a cheapo squier strat I learnt on, and a takamine electro acoustic, no problems.

The guitar is in tune, by the way. I'd appreciate any help anyone can give, I know I haven't given you an amazing amount of info, but its all i can think of telling you. Any questions would be happily answered.

Cheers for any help.

Join date: Jan 2006
80

IQ
Take it the local guitar shop. They can fix it by raising the strings and adjusting the intonation. Shouldn't cost you that much either.

Join date: Apr 2004
30

IQ
Alternatively, learn how to fix it (intonation, string heights, perhaps truss-rod setting if you're feeling adventurous) yourself... its good experience. Bear i mind that it could just be the new strings...

Join date: Dec 2005
170

IQ
I've never had an experience with buzzing and new strings; well not one that I remember.
Anyway, Either you can take it back, or you can learn to fix it yourself. Like said above, it's a good experience, and it feels good to be able to do something yourself. I had the same problem with my Squier strat. It turns out I put the action too low.
Just don't do anything you aren't completely sure of, and don't be afraid to ask

-KR

raise the strings.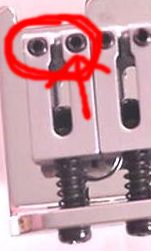 a tiny allen wrench goes into the two circled screws.
you lower them to raise that screw. u raise it until the string stops buzzing.
phil's pic