EVH paint job
i am starting a new guitar project and i plan to paint it with the Red, White, and Black EVH stripes, heres a estimation of what it will look like

please if you have previously done this or something similar, give me some tips or a walkthrough of how this can be done

Join date: Oct 2004
30

IQ

Join date: Aug 2005
233

IQ
So. Tired. Of. EVH paint jobes... Seriously...
Im. Tired. Of. People like you... Seriously...
yah this is pretty bad coming from a guy with EVH in his name... try something more origional

Join date: Jul 2006
10

IQ
Paint the color of one of the stripes first. When it's dry, mask the stripes with an automotive paintshop grade of masking tape in the width you want. Now spray the second color of stripe and let it dry now mask those stripes. Now spray the main color. Add several coats of clear and let dry thoroughly. Then buff to a high gloss.
very nice job, how many coats of lacquer did you put on the body

Join date: Jul 2006
10

IQ
I went with three. I'm not say that's the magic number, but it did work for me. Post a pic when it's done. I'd love to see it. By the way make sure to take everything slow. Make sure that the paint is dry before moving to the next step. My paint job took about a month. Another tip: cut a small piece of wood to fit the neck pocket. Attach it to the body. This will serve as a handle for moving and hanging the body to spray and dry.
use the blue masking tape it works better... and for the thin lines use electrical tape. it does wonders. i did a 2 tone project on my strat and it worked great. after your done the guitars not gonna be all flat since theres different layers bulging. i used a thick coat of clear gloss and it smoothed it out

Join date: Jul 2006
20

IQ
heres some pics for ya, i decided to go with black, silver, and red instead of the traditonal EVH colors so here
after i sanded the body,
after applying the final coat of red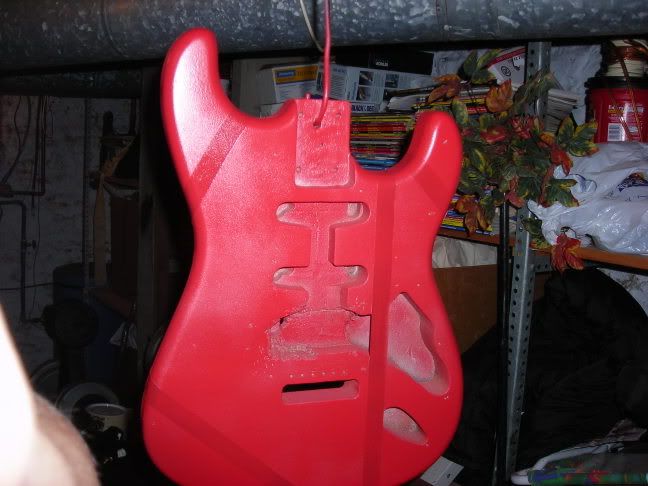 the Headstock, convincing huh?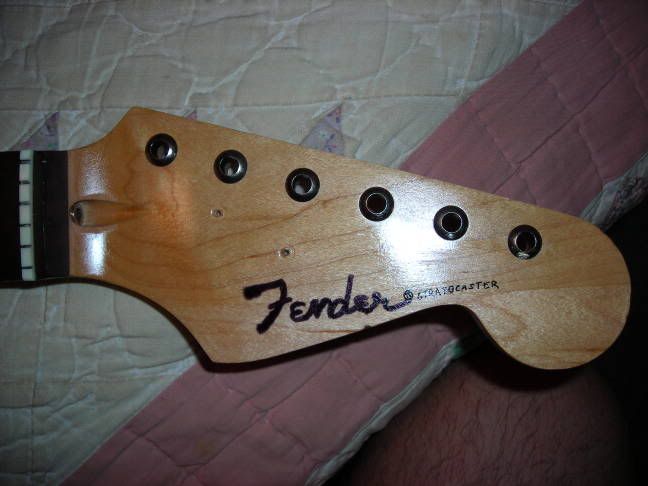 heres the finished product without the electronics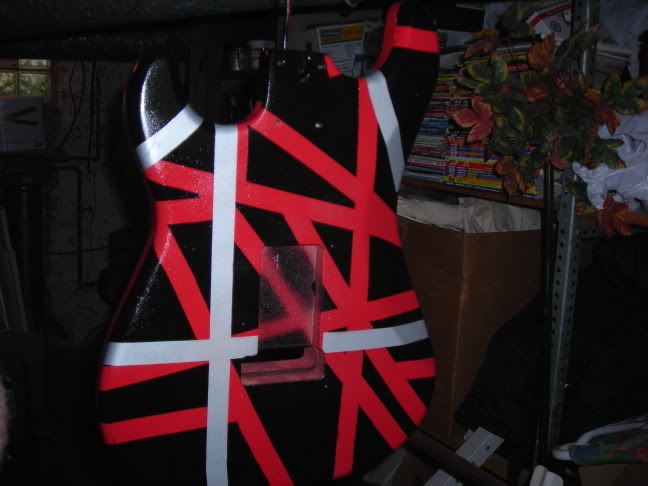 Join date: Oct 2005
70

IQ
Not bad... Nice twist on the original, but I'm more impartial to the black stripes on a white body....
soooooooooooooooo overdone

Join date: Oct 2004
158

IQ
i think it's awesome... just needs several coats of lacquer and it'll look alot better.
here it is, all done!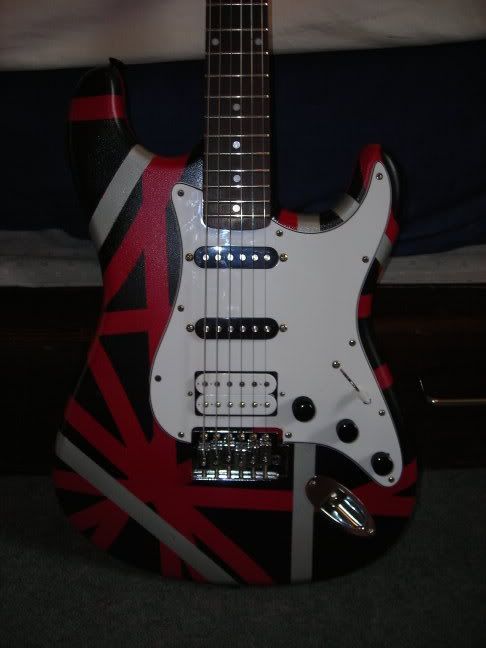 Join date: Jun 2006
30

IQ
I like it. At least the finish doesn't scream "EVH!!". It's too subtle for that.


Join date: Aug 2005
100

IQ
I think it would look better of there were the thinner stripes aswell but otherwise good job!