Squier Bullet HB ok for knock around guitar?
My gf wants to play along with me. I cant afford anything more, so is this the best bang for buck for around $100 US ($150 here is oz)?

Its the single humbucker hardtail version.
nobody played one?

i had a go on one and the neck seemed really good, i know the body isnt the best, and i can always replace the stock humbucker.

any opinions?
They are rubbish but yeah if you want something to mess about on, practice on, go for it.
so what is rubbish about them?

the neck felt better finished than the rg321 i played prior to it,
Just the whole quality of a cheap guitar affects it. The materials are crap, the stock humbuckers diabolical and the fretboards are often unfinished well and rough.
But like I say if you wan't something to knocking about that's at least gonn sound like A-G when you play those chords/notes...go for it!
The Squier isn't all that bad, its better than most of the Jap scrap that you get. I've got one on wich I changed the pups and tuners. I use it as a backup guitar for my Strat. I've used it on several shows without problems. The finish on the guitar is great and holding it next to my strat you wont tell the diff ecxept for the colour.
yeah i figured it would be ok for a learning guitar. but i seen some played and they sound pretty good to me for $99 US or whatever they are.

Join date: Feb 2006
10

IQ
Maybe something from the Dean XM series. The price is in your neck of the woods ('bout 100USD) and it's probably better. I haven't played the Bullet, but I'm very happy with my cheapo Dean.

Join date: Sep 2005
70

IQ
they will do you fine
crap hardware and parts, so you might have to fix them up every so often
but much better then the walmart/kmart guitars, you should be fine with it
i heard great things about those dean XM's too
fine for a f**k about
The girlfriend or the squier?
i played this bullet with an emg in it, i actualy kinda liked it, except the strings were liek rusted. but yah if u need something for her to just learn on its great, i just wouldnt get the package thing with the amp cause that completely sucks haha

Join date: May 2006
60

IQ
Hey, I'm looking for an electric guitar that I don't have to spend a fortune on. I know the Squier Bullet sucks, but the Squier Standard series really isn't bad. I compared a Squier Standard and a Fender Standard strat (they both have 2 humbuckers) and there were very few differences.

Now, if I bought a Squier Standard strat ($200) and eventually upgraded to better pickups, tuners, etc. would the guitar be much better?

And wow, I REALLY like this one finish it comes in, this walnut stain color.
the MIM fender will still have better tuners and a better finished neck. the hardware and electronics are better in general.

and if u get a squier be sure to get an alder wood model.

an upgraded squier will cost about as much as a MIM, ull still have a squier but wt better pickups.
in that case i'd still take the MIM fender.
perhaps an epi SG Special would be a better quality cheapy?

Join date: Nov 2005
40

IQ
For the squiers it's the affinity series that are alder and thankfully are kabout 50 dollars less, the reason it's cheaper is it has worse pickups which you said you would change anyways (that's what i did)
jenny how did u do that to ur affinity body?

how do u rate the affinity tele, surely better than the bullet?

that could be the one for me.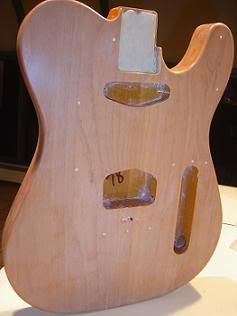 i took off all the parts. and spread a thick paint stripper on it. waited until it hardened and scraped it off, with a plastic scraper.
then sandpaper took off the rest.
i stained it a natural color and applied about 8 coats of lacquer on the finish, sanding inbetween each coat, making sure the previous coat was well dried. took a couple of weeks.
then i rewired it with hotrails and vintage rails. added strap locks. all done.
an easy alternative to lacquer is tung oil. it doesnt last forever, but its a lot easier, faster and safer to apply to unfinished wood. its a quick coating for first time-ers.
scan down to "oil" finish for more info on it.
http://www.lmii.com/CartTwo/FinishOverview.htm
as for squier affinity (tele & strat) series. i like them better than the standard squier (strat), because the affinity comes with a better body wood. and the standard comes with better pickups.
id rather get the better body and leave my options open for upgrading the pickups myself later.
the saddles are a little rough and the frets poke a bit out on the side. but those are things can be filed smooth.
the neck feels great. a very smooth maple. and mine stay in tune no problem.
its only $160. not bad. the stock pickups are weak tho. so id recommend u put in a little money for at least a bridge pickup swap.
also check out the standard tele double Humbucker, if u play heavier music.
http://www.music123.com/Squier-Telecaster-Custom----Solid-Body-Electric-Guitar-i109012.music
the important thing to look for in any of these starters, is the body wood.
alder and basswood can always be worked on.
Last edited by jj1565 at Aug 28, 2006,

Join date: Jun 2006
10

IQ
Its a horrible guitar, but if you just want to 'knock around' with it, it should be good enough till you can get something better.

Join date: Dec 2005
290

IQ
no you should get the squire affinity strat its worth it
thanks. Jenny, have u seen anything in tung oil? i do like oil finishes. any photos?

also, in OZ the custom is $499 RRP i think. where the affinity is $299. I can also get the squier 51 which is basswood, 1xHB 1x single coil neck, for $330.

Of those 3 which would u go for, taking into consideration price?
http://www.carvinmuseum.com/playersgallery/bk4kit.html
that's a bunch of pics of Carvin kit basses, alot of the guys used tung oil.
and if u play heavier music, ull want at least one humbucker.
(also check out the yamaha 112J Fat strat $200usd. its the better model of the two they make, body is alder.)
the 51 is pretty good for the price, the neck is really similar to the tele affinity and it gives u a humbucker. basswood has a pretty good sound too. its a little soft so u need to be careful with it. but u should be happy with the guitar overall.
thanks jenny

i think i will go the tele affinity and stick a hotrail in it like yours. some people say it sounds muddy. can you still get a bluesy sound with the neck pup?

Join date: Oct 2005
266

IQ
The girlfriend or the squier?

I have an Affinity Strat, and have used it for about 2 years, and It's actually a brilliant guitar for the money. £110 I think, got it in sunburst w/rosewood fingerboard. Pickups are low quality but not that bad really, lots of hum on my amp at high volume + gain, but everything else about it is just brilliant, I think, perfect guitar for a starter.

Upgrade the pickups, and get a good amp, and I think it would be awesome.
thanks jenny

i think i will go the tele affinity and stick a hotrail in it like yours. some people say it sounds muddy. can you still get a bluesy sound with the neck pup?
a stock neck is a little weak but u can do blues on it, if ur amp has nice cleans.
ive got vintage rails in my neck now. a little quiet for my tastes. but yes i can do a blues sound wt it no problem.
rails in the bridge have a nice output but are a bit harsh. its a twangy guitar to begin wt and then adding rails makes it pretty high end.
i like the combo, but now wonder if there's a better, more balanced, high output pup made for tele bridges.
maybe look around just a bit more, see if dimarzio makes a good stacked tele bridge. their stacked pups have rail output but seem to have a little better tone.
Squier 51.
Do it.
$150
Basswood Body
Incredibly Versatile
Ignoring the ugly pickguard it's by far the one of the best guitars for the price.

I also recommend the Squier deluxe strat.
Squier 51.
Do it.
$150
Basswood Body

why the basswood over the alder?
the 51 is $80 more than the squire affinity here. but if its far superior perhaps its worth it.
not "far" superior. just different and a little better.

again, u want a humbucker if u play heaveir songs and a SSS of ur only into classic rock or similar.

basswood is pretty good. i like alder's brightness, used in fenders.
basswood is used in some humbucker guitars, like ibanez.