customized strat: comments and ideas please
okay, so i wanted a tom delonge strat(1-humbucker) but didnt have the money to buy it, and i also wanted to know the basic idea of guitar building, I decided to build a guitar with leftover parts.
I had the neck, body, and other parts which was originally from a cheap chinese strat. I decided to sand and repaint the guitar since it was dirty and was in horrible condition.(↓guitar's original pic)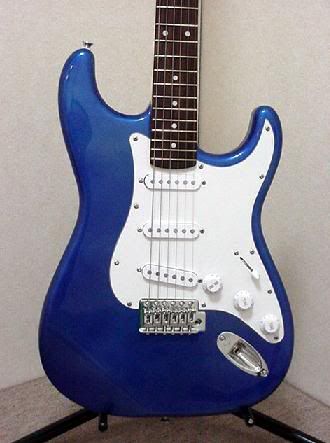 i sanded the headstock and body, then sprayed wood polymer. after that i used some yellow laquer spray.
after that replaced the bridge, knobs, pots to 500K, and changed the bridge pickup to a used Dimarzio humbucker.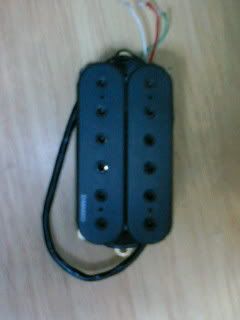 i also arranged the wiring so it's a 1-volume, 1-tone guitar. the single coil pickups are just fake ones, so it's actually a 1-Humbucker guitar.(I messed up when I was trying to cut the pickguard)
pickups were $25 in USD, bridge was 5$, also i needed some other stuff so it cost me about 60$(7000 yen) in total. it sounds really powerful, and sounds good especially with overdrive.
comments please

also I'm thinking of some funny things to put on this guitar(stickers, etc) so ideas would be great too(especially for the headstock)
EDIT: this was the first time i modded a guitar...
also the laquer is really thin on the back, but it turned out to be pretty good, so i left it that way.
Last edited by zoltan256 at Aug 25, 2006,