volume reducer/kill switch pedal
would this work?, what vairiable resistor would i use? or should it be a pot?
sorry about bad pic


Join date: Aug 2006
328

IQ
Tha only thing i can answer is that variable resistor is a pot (the same thing)
Wtf did you draw?

If you just want to make a killswitch, shunt the hot to ground with a switch. No pot needed.
it will have a vairiable resisitor in the cuircuit also so hopefully in a queit part of a song i can reduce volume but it will have a killswitch also . i hope this makes sence:P: the thign that makes it look complicated are the cuircuits that power the little lamps to tell me when a switch is selected

Last edited by spanerman at Aug 25, 2006,
It's to hard to look at...
I'll draw a new one.
thank you dude your a real gentleman :P:
My contribution..
One little Schematic..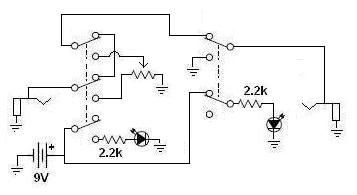 One little diagram..
LED's to light when the volume is selected and when signal is killed.
dude you are a god do you know wat pot i should use?
Just use a regular audio taper 500k pot.
sorry if i sound stupid i understand where the ground gos but where are the other input/output jacks?
They're marked in the schem!

Far left, far right. Nub!

And btw, you should probably use jumper the middle lug and the input lug of the pot with a 100k resistor and .022uF resistor, otherwise you'll use a bunch of treble when you turn it down.
please explain further, sory for that mistake i was looking straight at them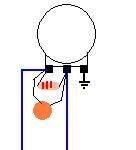 Like that.
ok thanks i should b off to get all the stuff soon il post up some pics when done :P: thank you again
Before you do I kindof Have a Good Idea :P for once in my Life Le me draw up the schematic
Ohhhh, you just try. Go on, try!!

Join date: Sep 2005
300

IQ
For 40 dollars (shipped) I will send you a killpedal.

I would only be making a 5 dollar profit and not even that.
No advertising!

(I'll do it for 35!)
I'm just waiting for KSMITH's schematic.

(I'll do it for 30)

Join date: Sep 2005
300

IQ
Screw you guys.

What I'm talking about is a Small Bear Tweak-O that I never got to work probably because of...
1) Frying
2) Shorting
3) A bad connection
but I can't figure out which one. I can't even get a volume booster correct.

Either of you guys wanna help me out and redo the electronics? I'll pay shipping there and back!

Well, I think Oregon is closer to Mass than England, eh? I wouldn't know where to start anyway.

kill switch for 30 bucks sounds tempting but i could make one for 10 quid and i wouldent have to pay shipping