Carvin Guitars

Join date: Jun 2006
30

IQ
I just bought a carvin guitar on wednesday and i must say it is the best guitar i have ever played. If you have had an experience good or bad with carvin guitars please share because i think they are an awesome guitar and the only other person i know where i live that has one said the same thing and i was curious as to wot everyone else thought of them.
I'm considering buying one. What kind is it?
My guitar teacher loves everything about Carvin. He has a Carvin Amp, carvin guitars, etc.

I love the sound and feel of the Carvin. I would highly suggest at least trying one out at a guitar shop for the heck of it. I would almost...ALMOST....trade my jackson DXMG for it.

Join date: Jul 2006
10

IQ
All carvin is High quality stuff. My V3 is the best amp Ive ever played IMO. and the guitars are some of the best out there.
my DC135 and CT6M are the two best guitars i own and have no plans to ever replace either of them

Join date: Feb 2006
71

IQ
wow I just saw imo the most beautiful guitar i've ever seen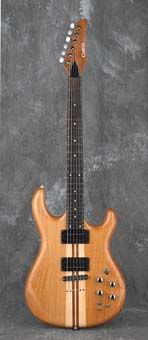 Join date: Mar 2006
115

IQ
never tried one but a fender strat might give it a run for its money
I'm not sure if I should buy a Carvin Strat copy or a real American Strat. Any advice?

Join date: Jul 2004
30

IQ
never tried one but a fender strat might give it a run for its money
if you've never tried one, then i suggest you not say something as stupid as that. i'd take Carvin's strat copy over a similarly priced new fender (i say new cuz i'd buy that used American strat at my GC for 800 instead of a new Carvin). oh man i live like 2 miles away from Carvin San Diego. i actually missed the 60th anniversary (and a Steve Vai signing) cuz my stupid brother and his stupid fiancee were getting married and i was the "best man". i got back by jamming Joe Satriani tunes at their reception.

Join date: Dec 2005
70

IQ
wow I just saw imo the most beautiful guitar i've ever seen
I don't really like all-wood finished guitars. Too furniture-ish, IMO. Dyed quilted tops, FTW


Join date: Feb 2006
71

IQ
eh well I love wood finishes

Join date: Dec 2005
70

IQ
I'd love that guitar with the natural wood down the middle and then red quilted body wings
Carvin guitars and basses kick ass man, a bit expensive for a custom with EVERYTHING, but oh well, you get what you pay for, and in this case is High Quality Made In The U.S of A.
For a custom, built to order instrument, they are increadibly low priced. I got some time to play the Holdsworth Fatboy and it turned me off to the PRS hollowbody all together. The PRS is pretty, but the Fatboy's sound couldn't be beat.

Join date: Oct 2005
16

IQ
i play carvin guitars and amps and they are the best.

i have a DC200 all customed out, and a V220 with an extra pickup

and a few amps. i dont know what kind though lol

Join date: Jun 2003
80

IQ
Everyone loves my Carvin.

Join date: Jun 2006
30

IQ
I have the carvin ct6m and it is amazing. I was after emgs to get those harmonics but i didnt like them and i was really worried that i may not find something with a great sound that has really nice harmonics, then i went to the carvin shop in l.a and i found my ct6m.

Carvin also have some the best amps imo, i was playing my ct6m through one of their valve amps and it was something special and it is so much cheaper than any amp of that quality that you can get in the u.k. I have a fender deville vavle amp and it is brilliant but i paid something like 800-900 pounds for it and this carvin amp which i thought was better was 780 dollars, but in the u.k we are ripped off. The ct6m was $1919, i got 100 off then 20% off again and the guy then give me more off and with tax added and stuff it was $1355. Over in the u.k i think you would expected to pay about £2000, or at least thats what the guy said in the shop.
The $1100 or so I spent on my TL60-t is the best money I've spent on any music gear. Absolutely a great guitar. I don't know who thinks that's expensive but considering it's almost a full custom it's a steal.

Join date: Jul 2009
110

IQ
My carvin v220 is amazing...hands down the best 550 bucks ive ever spent.

Join date: Oct 2008
580

IQ
Love mine,
the only reason I'm not playing it as my main guitar at the moment is because I was an idiot and bought lighter strings than usual before, and while my tele still has its elevens, it's strung with tens, which just feel flimsy to me.

Absolutely wonderful guitar though, plays like butter, looks gorgeous, and in combination due to Carvin letting me stuff the wiring to the point the head tech in the shop said there wasn't any more room, and just nice specs, can get any sound you want other than a tele. All for specs I'd pay around $2,500 from most brands for, at a little under $1,800. Love it, if they didn't demand you be signed, I'd hound them for an endorsement.


Join date: Dec 2008
370

IQ
I don't own a Carvin, but I have 2 on my G.A.S. list- a pair of SH550s w/Biggsby trems, one in spalted maple for standard tuning, and one in Claro Walnut for NST (CGDAEG)- the tunings I play in almost exclusively.

I know a lot of guys with Carvin gear, and all are blissfully satisfied with their purchases.
Carvin is hands down the best guitar company in my opinion aside from private luthiers, etc. I have never had a guitar match up to the standards set by my Carvins (including Suhr, Tom Anderson, etc).
Here's my Ultra V, which I got used in mint condition for $400 with case (best part about Carvin is that the resale blows, since its a custom guitar):
5 years old!!!!!!

Jesus.


*Reported*