How do i know what wood my squier is?
well, title tells all. it would be nice to know if its alder or not. any additional information i need to give will be given.
Thanks in advance


Join date: Apr 2005
152

IQ
check out which squier it is, i think bullets are plywood while the better squiers are alder

Join date: May 2005
50

IQ
haha its not alder, it probably agathis.

Join date: Jan 2006
30

IQ
**** wood thats wat squiers are
if it is affinty series it could be alder which is actually a very nice wood and actually quite a nice guitar (except the stock pickups are not of the best quality)
yeah, i was hoping alder, then i was gonna swap in some texas specials or something.
Do you have some pictures? Ultimately that would help us

But if it's affinity, then putting some new picups and properly grounding it would give you a very nice guitar indeed.
affinity ate usually alder like said.
what do ya need the pic of? like what part of the guitar.
Preferably the back of the body close-up if its a see-through finish
If it is a solid colour then it is rather hard to tell from a picture I'm afraid. I would put some nice pickups in it anyway.
not a see thru finish, but i do have a chip in the tremelo cavity.

Join date: May 2005
80

IQ
that'll be fine if we can see the wood a little...depends how big it is
Not sufficient for me to tell I'm afraid. Keep asking round, though im pretty sure the majority of Affinity Squiers are Alder or Agathis, which is still good wood.
Join date: Apr 2006
210

IQ
I also have an affinity if it is alder would changing the neck to a fender and giving a pick change make it comparible to an MIM strat?
I'm not sure if it is alder or not either.
again. yes its probably alder. they have alder (u.s) and agathis (outside u.s.) written on the descript on most online sites selling affinities.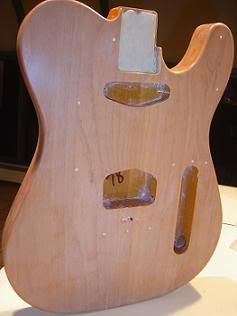 that's my affinity tele. after i stripped off the paint. alder. 3 pcs.
u can look in the trem cavity, if the walls arent painted u can see the wood.
but unless ur guitar has a dull sound, its probably alder. and if u cant tell then, dont even worry about it. worst case its agathis, A REAL WOOD. just not as bright sounding as alder.

Join date: Jul 2006
10

IQ
Smash it up with a hammer then you'll be able to tell