How to lower action on strats?
hi i need to lower the action on a strat model but i dont really knw how to, my other guitar has got a different bridge which is easy as to raise/lower.

The guitar is a standard strat so what do i do to lower the action?
Adjust the saddles at the bridge. Use an allen wrench and adjust to your liking.
do i adjust that screw at the end or at the front with those two little holes?
okay i tried that but i didnt raise or lower..........i got a copy strat is it maybe because of that?
I thought the screws adjust intonation?

Join date: Mar 2005
10

IQ
you're supposed to adjust the 2 screws in front to adjust action....
You need an very small allen wrinch not a screw driver. The screw part is for
intonation.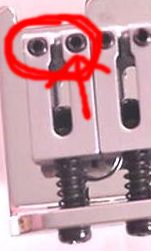 just to be clear. these two. u use a tiny allen wrench. u raise and lower to raise and lowr action.
phil's pic.
and the screw adjusts intonation, so now ull have to check that too.