ESP F-250 rewiring help
I've had my ESP F-250 for a while now and I just recently bought the EMG ZW set [85/81]. I took out my old EMG HZ's and unsoddered everything [ Don't ask me why.] Now I'm pretty much lost. I still have all the pieces/wires/hardware. Can anyone point me in the right direction to fixing up my guitar?
What do you mean, unsoldered everything? You only needed to unsolder the Hot and ground for each Pup from the selector, all other wires can stay on.
Right... but unfortunately I unsoldered everything. Everything is still intact though. Can you explain breifly what goes where? Also, the 81/85 set came with new volume and tone controls yet they do not fit length wise into the guitar. Do I install these or re-install my old tone/volume controls?

What I have now is

1 volume control. No soldered wires.
1 tone control. No soldered wires.
The 3 way switch... nothing on it. It befuddles me because I don't know what goes where here.

I installed the input jack and the battery clip correctly. The red wires have been soldered from the pickup red wires to the battery clip red wires as directed. I have no idea where to go now, though. Please help.
Last edited by IXI Streak IXI at Sep 2, 2006,
I need pictures. And whats wrong with the volume and tone pots that came with the EMG's? There too short? Just live with them being a little shorter.
The volume and tone pots that came with the EMG's aren't too short to fit into the holes. They have this metal wire connected in the middle of them with a green bulblike thing. They also have a small black wire that doesn't give enough way so that I can space the pots to fit into the holes.

Join date: Aug 2006
10

IQ
the black wire isn't long enough for you to put the knobs in their correct holes? snip that wire in the middle put the pots in the holes, then strip the ends of that wire (the ends that once were connected to each other) then put in a new piece of wire. solder both new connections then tape up.

I can't help you with the rest of the wireing though.

Join date: Sep 2005
60

IQ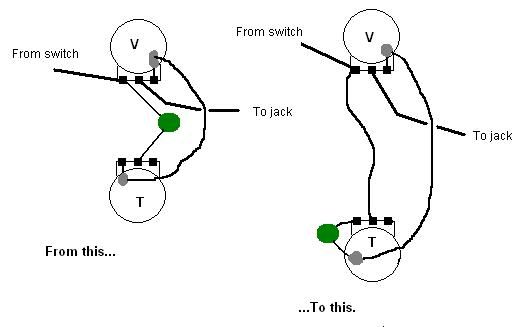 Just do that and get on with the rest of it, using the diagrams you got with it.
Thanks alot. I'll post back if anything else needed.
Ugh. No luck. How much would it cost to get somebody to do this for me at a music place or whatever?
Depends, anywher for 10 to 50, depends on the place.
Meh. It's unfortunate. I had to purchase a new EMG 85 because mine broke... =/ Also, I got a luthier to install and wire everything professionally for 75 bucks. Some douche at guitar center said it would cost 150. Fuuuuck that.

Join date: Sep 2005
60

IQ
GC is a big company, they're like that. Little stores on the street corner is where you should go.