this is crazy! (i hope it works)

Join date: Mar 2006
10

IQ
ok so heres my idea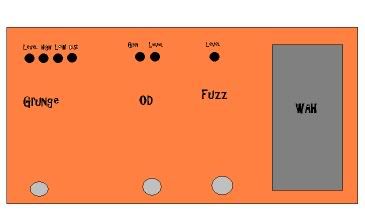 I know its a crappy piant picture but you get the idea
I've aready made the grunge, and I'll just use my wah pedal. I have the scamatics for the other two. I want to be able to use them in any combonation (just like if i had the pedal seperatly, only they will all be in one housing) so my question is this, how will I connect the pedals together without having to use all the inputs and outputs, and using cables? could i solder the wires for one input to anothers output?

Join date: Jul 2006
10

IQ
You can solder the output of one to the input of another and it'll work just as if you had a cable between two separate pedals. When you say you want them in any combination, do you mean turning them on and off independantly or do you mean you want to change what order they're in. Wiring the inputs to the outputs will let them operate just as if they were separate pedals, but you won't be able to change the order (eg fuzz before wah or wah before fuzz) - to do that you'll need to use rotary switches.
good..very good...nice...sexy....whats its number

Join date: Mar 2006
10

IQ
yea I just ment that I want to switch them on/off independantly.

what do you mean what number is it?

is the order I have them in good?

Join date: May 2004
480

IQ
What is the grunge you used? Did you build it? What is it? Schematic?
Yeah, what schematics did you use?
you'd just have to wire the outputs and inputs directly to the switches instead of jacks. I'd go for 3pdt switches, so you can wire LEDs easily and have true bypass