Oh.....my poor guitar.........
Hi all,
I posted a thread earlier but took it off because there were no pics.
Anyway long story short i sat down with my Ibanez while connected to my Marshall, obviously the leed was sticking far out of the input jack but i had done this many a time easily.
Anyway being the clumsy oaf that i am i lost a bit of balance while in mid sit and put my full weight to the right of my guitar which inturn caused the leed to thrust up and buckly the wood around the jack.
This is the worse thing iv ever done to a guitar

and whats worse its permenatly screwed the finish in that area, so its likly i cant repaire this by my self so...
can anyone tell me what appoach someone would take to mending this? Im taking it to a shop as soon as possible, how much do you think they;ll charge me?
thanks
If its not a structural problem (like your input jack will stay in place without getting it repaired) then I wouldn't worry about spending the money on it. I seriously doubt it will be cheap, and - to me- its not important. Good luck

Join date: Jun 2006
70

IQ
whoa, that blows, sorry dude. .

anyway, I've never done that before, but I'd estimate around fifty (USD) to remove the jack, straighten the hole, and patch up any missing wood. . .

Join date: Dec 2005
81

IQ
im sorry to say i cant help you, but i feel your pain! my epiphone's input will unscrew every now and then and it takes me forever to pull it back out...
Join date: Mar 2006
428

IQ
That is horrible, it looks like a nice guitar too, if it still works you should be fine though

It still works fine but its just painful it really is, i have to get it repaired, i mean the actually inout jack is fine but i mean if i pushed hard it could dissapear inside the hole.

Also its one beautiful, and to see a such a horrible blemish like this breaks my heart.

Join date: May 2006
10

IQ
tbh i think its not totally your fault, that jack socket has a horrible design to have no plates or anything there. I'm sure the rest of the guitar rules though.
Join date: Mar 2006
428

IQ
Yeah that is true about not being a plate, and I'm glad it still works, if you didnt mind about appearance you could tape it to strengthen it

Join date: Jul 2004
170

IQ
you could find a plate that will fit under it and maybe it will cover up the part that got all jacked up.

edit: dang you beat me to it
im sorry to say i cant help you, but i feel your pain! my epiphone's input will unscrew every now and then and it takes me forever to pull it back out...
Put a locking nut on your input jack and it will permanently solve the problem.
edit: dang you beat me to it


Join date: Jun 2006
70

IQ
What about cutting a small piece of metal to put over the jack to cover the hole? You could cut it into any shape you want, make it stylish so it'll look nice, and it'll help keep the jack in place, too.
I can't remember the name of the material, but there's a thin metal aluminum plating I once used to make a gobo (a filter you put in a light to throw a shape onto the stage). That stuff would work great; it's very malleable, and you can cut it with an exacto knife.
yeh i hope you could do something like this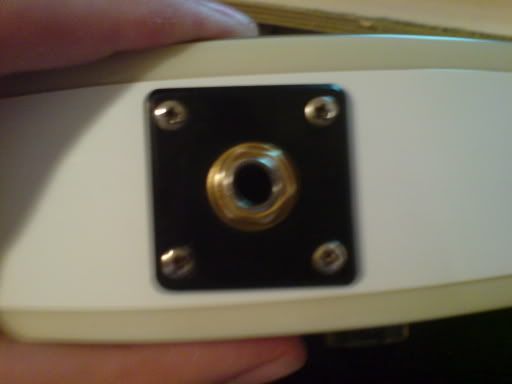 i really hope you the best cos it is a beautiful guitar
Last edited by srvman at Sep 5, 2006,
sorry for the size my editor thing is messing up
thanks guys, the metal plate seems the best option, the only problem is i dont think i'll be able to fit it myslef.
Wow this has been one crap day for me

no u shud be able to do it urself just think about it logically and think about what your doing slowly,

if you need help alway come back here.

itll save u loads of money

dont worry it can be saved
yeah, it really shouldn't be difficult. Line it up where it looks perfect, and use something to mark the holes through the plate, whether it's 2 or 4 holes depending what you use. Then drill small pilot holes at the marks, smaller then the screw radius. Most guitar wood is pretty easy to work with, just take your time. You could even tape the jack in position while you mark the holes. Even if it's a fraction off, it will be hard to notice.
Ok im looking at jack plates at the moment.
The jack plate is agood idea but, jack plates are screwed into solid wood, and you have a hollowbody. So it might not be able to stay in there properly.
it would probably be a good idea to use a washer and nut behind the jack too, that would strengthen it. You then run the risk of taking a larger chunk of wood though if it happens again. Maybe start using a cable with 90 deg angled jacks too.
Damn, good luck with that. Try not to worry about it too much if didnt damage the jack.
Join date: Feb 2005
50

IQ
Eh, that really bites.

Nice guitar BTW.