Pyro's Custom Guitar Build
UPDATED BODY DESIGN ON PAGE 2
So, after almost 2 years on UG and after 2 years of just cruising around the GB&C looking at how many people have made nice guitars all by themselves, I decided to tackle my own custom guitar project.
The Specs
- Swamp Ash body
- Ebony Fretboard
- Maple Neck
- 24 Frets
- NO Inlay
- All chrome hardware
- H/S/H
- 25 1/2 scale
Well, those are all of the specs that I can think of right now.
Now I guess I am setting up this thread for everyone else to see how my guitar is going, and so I stay motivated to work on it. Plus maybe people who want to make a guitar will learn from my mistakes (I know I'll make them).
Well I've already gotten to work on it. After almost a week of work (it took me a while) I got a shape of the body I want. (Original Design)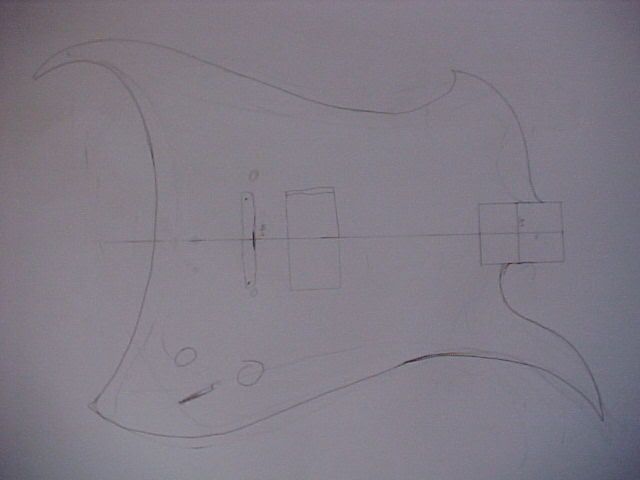 I guess its kind of a Mockingbird/Star shaped body with my own personal twist on it. I figured that if you are going to make a guitar, why not make it totally custom?
So I have the Swamp Ash too. I got that a while ago when I went on my guitar buying binge a year ago or so.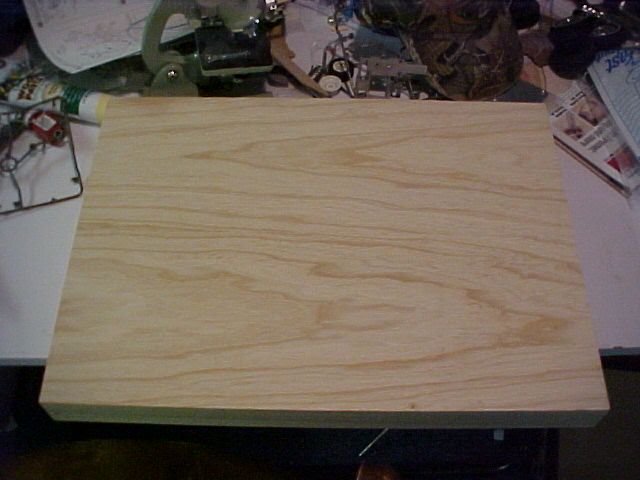 So then I cut out the body template I made and I layed it up with the blank.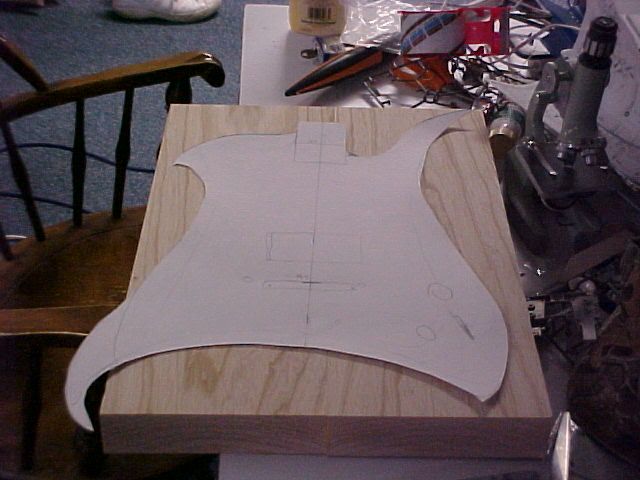 It was a little to big, so I cut off the lower left corner. I will cut that out of the scraps I get and then just glue it back onto the body. Or I guess thats how it will go.
Heres a shot of the ebony fretboard too.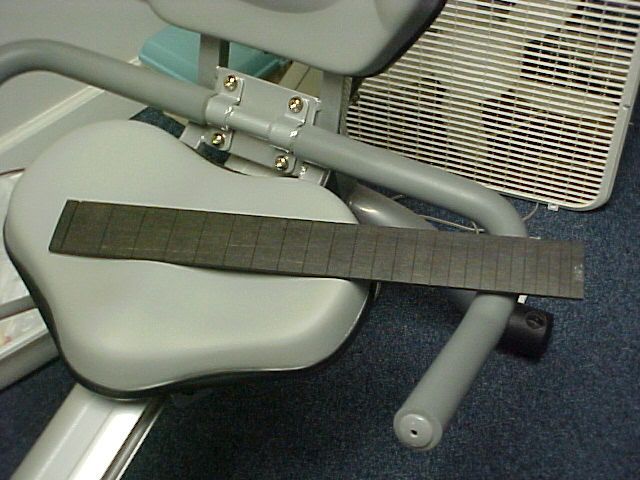 I think I need to make the body thinner, because it is almost 2 inches thick and I do not want to have to hold that thing on my neck. I was thinking about making it about an inch or inch and a quarter. Will that be thick enough for all the cavities I'm going to need to make?
And how would I go about making the body thinner? Would I have to use a planer or can I just make passes at it with a router later after I get the body shape cut out?
I called up a local lumber store and they said they would cut the body out for me for free, but I would have to give it to them for about a week or so. So I'll probably drop it off either tomorrow or day after next.
I'm really excited for this build. I can't wait to get started.
Last edited by pyromaniac7234 at Mar 22, 2007,
lookin good can't wait to see it finished! what kinda finish?

Join date: Jul 2006
40

IQ
An I dea is making it like an S Series Ibanez. It's a surprise not many people talk about them. Anyways, and S Series is exceptionaly thin around the edges, but fat enough around the pickups.
An I dea is making it like an S Series Ibanez. It's a surprise not many people talk about them. Anyways, and S Series is exceptionaly thin around the edges, but fat enough around the pickups.
That sounds pretty cool. What would you have to do to achieve that though?
Sumfears - probably a blue or green stain
What Pup combo? Sorry if this is already ansewered.
if you want to make it fatter in the middle you are going to have to a)cnc router it to shape or b) chizle it by hand to shape it. but yea you are going to have to plane it with a planer, problably before you get the body cutout if you want to be easy on yourself.
Zekk - I haven't made it to what kind of pups I'm going to use, but I am thinking about a H/S/S combonation

Sempri - When I take the body in to be cut out tomorrow, I'll see if they can plane it down too. I think I will just forget the S Series way of doing thickness and just make the entire thing thinner.

Anyone have any idea how thin I can make the body? 1 1/4'' is the thinnest I think.

Join date: Aug 2005
243

IQ
Awesome that you've come up with an original design. Can't say that I likeit so much but oh well.
General - I guess it isn't the BEST idea for a body, but I like it. I guess thats all that matters.
So I went to the hardware store today after school and the guy in the woodshop said that he would cut out my body for $10. So I gave him the money and he cut it out. It looks nice in my opinion. While I was there I also bought a rasp so I could shape the body later.
I have a ton of things to do, so I don't know when I'll be able to work on this again. Hopefully I can get something done on tomorrow, or Friday at the latest.
Here is a pic of the body.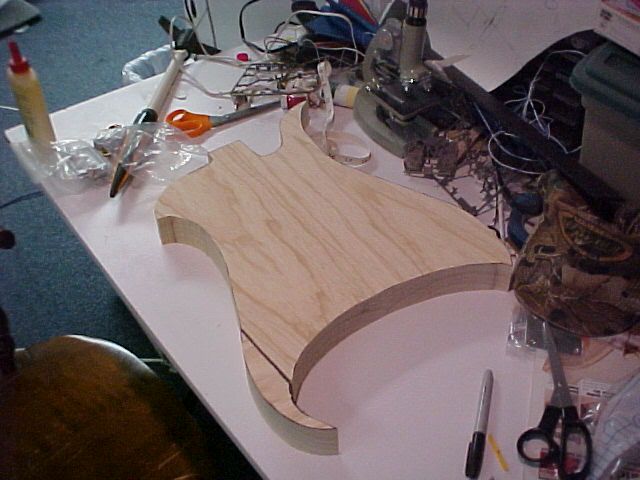 I still need to attach the lower left part of the guitar. While I was at the hardware store I also bought a dowel so I can attach it in.
So thats all for today. Hopefully I will be able to buy the maple for the neck this weekend.

Join date: Aug 2005
243

IQ
Well as long as you like it then it's all good.
dowel? this may be the first time i've heard of a guitar held together with dowelling, more conventional is glueing the wood in a jig that clamps the peices together, these jigs can be as complex or as rustic as you like, and even though you have some awkward shapes to clamp, a few wooden wedges should do the job.

also my thinnest guitar is my ibanez bass, at 1.5" i've seen thinner, but wouldn't see the need, its large bodied, alder, and light enough to play for hours (yes, even hung round the neck).
Punkish - Thanks. I think I'll do that first before I bust out the dowel. I was only going to use it because it was going to be simple.

A note about the thickness. They had a planer at the woodshop, but it was to small to fit the blank or the body. So I'm just going to have to live with a very thick guitar.

Also, I'm having second guesses about the lower left horn (or whatever you want to call it). Input?
you could put a strat style imput
you could put a strat style imput
Hahaha, I was talking about if anyone had an input as to what I should do with the horn, not the actual input jack. But I could put a strat input on it.
But really what should I do with the lower left horn, keep it or lose it?
yea you should leave it off, looks good without it.
That's what I was thinking too, otherwise its just ridiculous looking. I'll go back to the place tomorrow and see if I can fix it up so it looks nice.

EDIT: I'm still undecided, what do you guys think?
Last edited by pyromaniac7234 at Sep 6, 2006,
now by best do you mean looks or functionality, because a tele bowl style definately is better than that because you can get to it and it looks cool too,
Update for today.

I'm getting rid of that lower left horn. I've decided. I probably wont send it back to be bandsawed though. I'll use a regular old saw to do a VERY rough cut, then rasp/sand it into the shape I want.
Not meaning to double post. Simply to update.

I took off the lower horn, and it looks nice. I might be able to use a friends router, so I can route out the sides a little bit to give them some cool shapes or whatnot.

I need any and all feedback on this guitar. Just tell me what you are thinking.
I figured it was time for an update.

It turns out I can't get my hands on a router for free, so I'll have to take it back to the lumber yard to see if their woodshop would do some more work for me.

I also was able to get a piece of mahogandy that I could use for the neck. But I really want to stain the face of the headstock the same color as the body. Should I just bleach the mahogandy so I can stain it the color of the body OR should I wait and buy a maple neck blank?

Pictures of the body sometime tonight, whenever I can find the camera.

Join date: Sep 2005
310

IQ
You could put a veneer and stain that to go on top of the mahogany.
you might also want to cut out the pickup and control cavity while you are routering....might save some time... and also you might want to go with a h/s/h style setup and coil split them for some more versitility..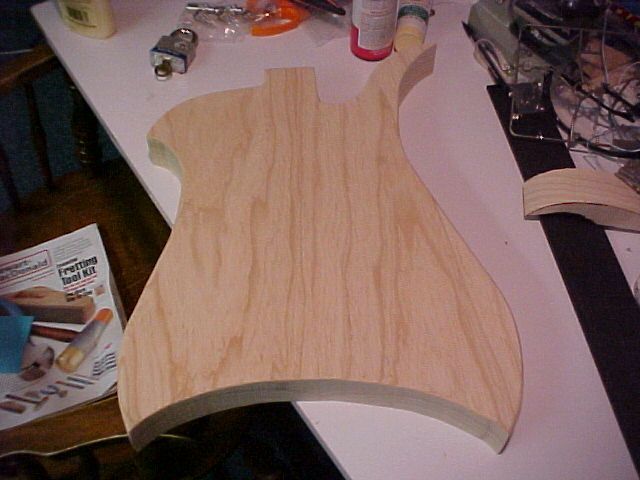 There is the updated body.
Super, thats what I am going to do. I'll track down some veneer (more than likely on eBay). I'll just have to find a good veener so it won't look CRAZY different than the guitar. Unless I can find enough veneer to put on the body too, in that case I'll do that.
I'm wondering about the H/S/H, but I don't understand what a coil split is. Haha. Sounds a little wierd. Thats why I was going for the H/S/S. Plus you don't see many H/S/S around.
If someone can explain coil splitting, maybe I'll reconsider.

Join date: Sep 2005
81

IQ
i would say this for the input jack...

... make the strap button a locking input jack, that would seem kool, but if you want strap locks, then give it a bowl jack, like strat's have
when you coil split or coil tap you take a humbucker, which is basicly like 2 single coils put next to eachother, and you take and ground (short) one of the coils, this gives you a single coil sound but still retains the hum "bucking" (or cancelling) function of the pickup, you just use a push pull pot to do the wiring typically, so you'll need two of them in order to pull it off.

Join date: Apr 2006
292

IQ
Don't thin down the body, use a massive slab of swamp ash for super sustain and massive tone, although the wood is not the greatest choice, it much match up the sustain and beefiness to a les paul if it's big enough
lookin' good man cant wait to see it finished.
lookin' good man cant wait to see it finished.
I'm just as excited as you are. I just want to see it done. But I just have to take my time, I don't want to mess anything up.
Sempri - I kind of understand what you are talking about. I'll look into it some more before I decide. But pickups won't come into play for a while, so I have some time to decide.
I can't do any work on it today because I have a TON of homework that needs to get done first. Maybe tomorrow I'll go searching for some veneer and a place to get the body all routed.
It looks kind of square to me. Perhaps make it slightly thinner?
Just an opinion, of course. It's your guitar, not mine.


Join date: Jan 2006
10

IQ
consider arching the top?

Join date: Jul 2006
30

IQ

Join date: Sep 2005
310

IQ
I would put bevels in it, like SGs have. Just use a planer to "cut" the corners then sand until smooth.

Join date: Aug 2006
141

IQ
For the input jack if you have room, put a strat style one placed like an LP one. (on the side) It wont pull out as easy and its out of the way cosmetically.
dude dont think the body, i played a 3" thick flying v one time, and i didn't wanna let go of it, then again i am semiretarded
I'm not going to arch this one.

I want to bevel it though. That's what I need the router for. I tried to do it by hand, but I don't have any hand planes that do the job.
Last edited by pyromaniac7234 at Sep 13, 2006,
Update.

I went out and bought a plane today (about half an hour ago) from the local hardware store. But the plane is to big to fit in ANY of the corners, so I can only do like 3 parts, and even then they all have different bevels. I'll have to get one of those mini planes from Stew Mac

Wait, does anyone knows if they sell mini planes at Lowes or Home Depot? 'Cause if they do, I could take this plane back and buy a smaller one.
im, not sure..maby try calling them and asking..they might though. and i just had a thought, if your guitars body is 3 in thick why not put a cavity in there so you can use onboard effects? like take the guts out of your favorite stompbox and have a 1/4 plug from your guitar plug into it and have the output of the pedal feed the output jack on your guitar, and you could have a plastic cover on the back (or side) to mount the pedals controls.... it wouldnt be that much more work and you could get some pretty cool sounds with just your guitar..
My body isn't 3 inches, its about 1 3/4 inches thick. Plus I don't usually use many effects, so it wouldn't matter much.