strat adjustment
On my strat copy i keep getting alot of buzzing and no actual note coming from the higher strings (GBe) on the first 4 frets of each string. I think it may be an action problem but im not sure. Does anyone know what is wrong? And if so, how do i fix it?

Join date: Feb 2005
50

IQ
Yeah, that's quite the action problem.

You can get it fixed at any local guitar store, or you can do it yourself. I don't know how to do it yourself though...
as far as i know its something to do with the small allen wrench holes on the ends of the saddles but im not too sure

EDIT: also while im doing this stuff, how do i change the whammy so that it can bend the pitch hihger aswell? and what does changing teh palce of teh spring do and will i **** my guitar up if i change them around now?
Last edited by twistedmaggot at Sep 6, 2006,
first off, is ur bridge level?
second, action is adjusted at the bridge with a tiny allen wrench,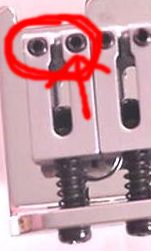 this might not help in ur case cause the fret buzz is on the 1st few frets. so try then repost.
logz pic
I'm not sure, do you just mean is it all resting on the body when im not using the whammy?
yep i meant is it flat when not in use. sounds like it is.
ok so then try to lift up the strings a little see if u can get the buzzing to stop, if not then u might either want to repost and ask about truss rod adjustments, or put on heavier strings.
i only get the buzzing when i pick the string on the first four frets though so i can't pick it up can i? im planning on putting heavier strings on though soon cause these ones are too light for my liking.
well then put on heavier strings, itll natually bend the neck a bit forward and hopfully resolve the top fret buzzing.

kepp in mind ur bridge might lift a little at first so make sure u know all u have to do is tighten the 2 screws in there, (back of the guitar)to get it flat again.
ahh ok thanks for the help