my strings are far too high
Hi,
I got an Epiphone Les Paul Special 2 not that long ago as a step down from my BC Rich Warlock Maggot Man. The only problem is the strings are so high its near imposible to play. They are fine on frets 1-3 but then it gradually get higher.
Anyone know how to lower my strings on the high frets but keep them at the lower ones?
The height of the strings is called the action. To change it, adjust the bridge sadles or the bridge all together.
you're best off going to your local guitar shop and seeing if they can do it for you, otherwise it just gets f###ed up!

Join date: Dec 2004
200

IQ
Les Pauls take some tinkering to get them playing well with a low action, just an inherant issue in all Les Pauls (all the one's I've played anyway). And for something like a Special II, it's hardly worth it, just a disposable guitar.
Its not just a disposable guitar. At 14 £120 is a lot of money. I would really like to know how to do it. I read I need to adjst thumb screws or something like that.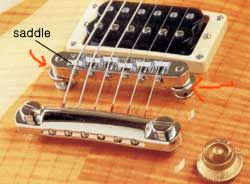 u loosen the top screw, above the arrow. that will loosen the thumbscrew pointed to by arrow. then u lower that, and the bridge will lower.
phil's pic
Thanks alot. Is it sensitive or will I have to turn the screw loads?
it should be pretty sensitive. ur action might have been high to compensate for a high fret.
so u lower it a little tighten up, then if ur not happy, do it all over again. its going to take a few minutes to get it right.

Join date: Jul 2006
42

IQ
Only go like a quarter or a half turn on each side at a time, check how it plays, then turn it again. If the screws are too hard to turn, loosen your strings a bit first.