Raising strat bridge

Join date: Oct 2005
30

IQ
I'm trying to raise the D string on my strat because it isn't as high as the other strings. So, my question is, how do you raise the two little "feet" within the saddle?
Depending on what Strat you have, most have small "allen" screws in the top of the string holders. You will see one on each side of the string holders when you lay it face up. You will need a very small allen wrench or bit to trun it. I take the string off or loosen it up so there is no pressure on it. Then turn the screws equal distance. Turning to the right lifts the height I believe. The neck really cannot be adjusted to effect height of strings, so concentrate on the bridge. Also, they string may be higher because it "buzzes" on the frets. Look for the small allen screws on ther saddle string holders and go from there.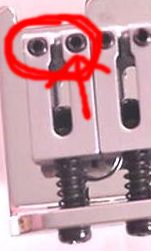 like said, lower these two screws to raise the saddle.
phil's pic