HSS Strat
i never use the tremelo on my strat...can i just unscrew it and leave it out? what can i do?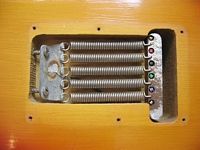 if ur not going to use the trem anyway, u might as well tighten it up in the trem cavity.
when u keep the bridge level, flush against the body, it will stay n tune for u better.
you can tighten the two screws in there and or add springs.