Need some help with setting up my guitar and getting rid of fret buzz
So I have a fender strat and I put new strings on it yesterday, the same kind I had before, and now I am getting bad buzzing through frets open to 7ish on all the strings. So is there a quick way for me to change my action without having to adjust the entire setup of the guitar? Would the truss rod do it for me?

I know down at the bridge you can raise action by raising the little pegs on each side of the bridge thing but mine are already all the way up. I took it to a music store last year to be set up correctly since I hadn't done it in like 5 years and then made my bridge flat to the body and raised the pegs all the way. I'm not sure if they were right in doing that though, cause not that I use my wammy bar that much but I cant bend up with it being flat. But thats not hte point. The point is that the little pegs are already as high as they will go so I can't raise the action from right there.

So what should i do?
I'm, not sure on what you should do, but messing with the tross rod, could seriously damage your neck if you don't know what your doing. Maybe your bridge fell down a little somehow when you were changing strings, and just enough to give you some buzz on the lower frets.

Join date: Sep 2005
81

IQ
are your strings too loose maybe? just mess with them for a while, satretch em and such, and see what happens
I know down at the bridge you can raise action by raising the little pegs on each side of the bridge thing but mine are already all the way up. So what should i do?
on a strat u raise the action by moving the individual saddles up and down.
u move each saddle using a tiny allen wrench.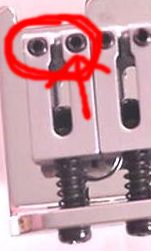 you lower them to raise that string.
there are other types of bridges. but this is the most common. is this what u have?
phil's pic.

Join date: Dec 2005
80

IQ
hmm if theyre buzzing from open fret to 7 i believe that may be your truss rod but yeh raise your action first if it doesnt work then you can do your truss rod
Most likely your truss rod. If you don't know what you're doing, bring it to your local shop.
I took it to a place last year to have them set the intonation and stuff and they messed with my bridge. Yeah it looks like what you are showing there but mine are all the way up already. So I guess I need to adjust the truss rod? I'm pretty sure I know how to do that, just carefully turn it with an allen key, right?

Question about the bridge though. Is it supposed to be flat or should it be raised a little? Cause mine is flat right now and not that I use my wammy bar that much, but if I were to use it I wouldn't be able to bend up with it. Is it normal for it to be flat like that or should I do something about that?

Third question that might explain something. I use light strings, 9 to 42's. Is it because my strings are too light that the bridge doesn't lift? And also, people that play strats, what guage do they usually use? Like what would Pete Townsend use? (I saw him tonight in Philly and he was playing a strat, though it had EMG pickups)
I'm pretty sure the whammy works fine with the bridge flat, but you're right you wouldn't be able to bend up. If you want smoother trem action loosen the screws a little in the back cavity to make the trem float. But you don't want it to float too much, staying in tune would be damn near impossible.

I use 10's and I had to adjust some things after taking off the stock 9's. Nothing too drastic though. And 9's are the standard for Strats, although I recommend 10's.
strats work fine with a flat bridge.
they arent made for vigourous trem use, just pitch changes.

you need to measure ur neck angle before you adjust the truss rod, so u know which way and how much to turn.

you fret the Low E at the first fret. at the same time
you fret the Loe E at the 17th fret, about where the neck and body meet.

with both places held, u look at the middle frets. around 7-8th frets.
if the string lays on the fret wire there you dont have enough gap.
if the string is more than a credit cards thickness up from the fretwire there, u have too much bend.

measure and repost.

edit: also im not sure why u want a lifted bridge on a strat. like said, its not necessarily the string thickness, it's how those strings are balanced against the springs in the trem cavity.
Last edited by jj1565 at Sep 13, 2006,
The string isn't quite laying on the fret, but it's pretty close. And I was just wondering about the lifted bridge.

Could it possibly be the set of strings I put on? Like even though they're the same kind as before, I just got a bad batch?
no, thats not why a bridge lifts or not.
ok on a strat u have this in the back of the guitar...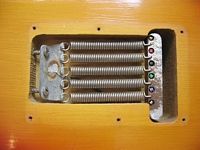 usually 3 springs, but as many as 5 springs and the 2 screws u see pictured.
when u put on heavy strings it lifts the bridge until u either tighten the screws to pull the bridge back, or tighten And add springs to reinforce really heavy gauge strings.
as for the neck, seems pretty good. if u want more bend let me know ill walk u thru it.
raise the action with an allen key, it will work.