Rate this custom paint scheme so far

Join date: Jul 2006
140

IQ
I'm doing this in photoshop for my friend, who wants to get her Epiphone G-400 painted. This is what I have so far: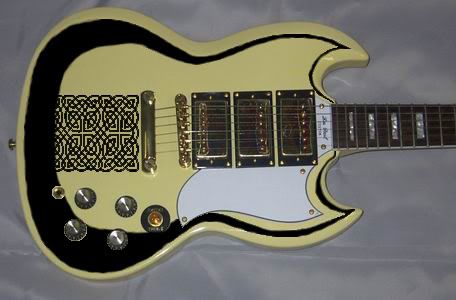 I going to try to have a rose grow out of that pattern, and then her name is going to be written around it.

Join date: Sep 2006
40

IQ
nice, just clean up the lines a little tho
I think you should make the black outline all one thickness, not thinner near the horns. Change that and I think it'll look pretty good.

Join date: Sep 2005
310

IQ
I would start with the rose coming from the bottom right near the knobs then have it go in between like a symmetric line between the celtic knot design then have the rose.
that design looks haard to paint...

Join date: Sep 2004
80

IQ
man your crazy if you wanna try to paint that ill let you know right now it will take you about 10 15 hours to cut out the mask for that paint job.

and i think your best bet would b to make the pinstripe around the contour edge all the same thickness as the celtic knot and have it joint into the knot and have those corners that were broken joined to the other broken joint. staying true to the whole knot idea.