Painting my Bass
On Saturday, I was practicing at my drummer's house with our band, and the next door neighbour heard us, and offered to give us his bass and amp (which he hasn't used since 1985). The amp is a Gorilla amp, so nothing madly special, and the bass is a Fender Jazz knockoff (he painted it over years ago) .
Anyways, the neck is a bit messed up, nothing serious, I'm going to bring it in on Thursday to get it fixed, then I'm thinking that since I got it for free, and isn't worth much at all, I might get it some good pickups, and paint it myself.
Does anyone have any experience in this? Or does anyone know any good resources in guitar painting... I really want to do a good job on this.
PT


Join date: May 2003
20

IQ
Go check out the gear customization forum, they always have great advice on what to do and stuff.
But good luck with that.

Ok

If any mod sees this, please move to GB & C forum.

Now that I think of it, I might de-fret it... ooh. That would be cool..
pictures! pictures! pictures!

if the paint job isnt' that great maybe give it a repaint. And hwo bad is the neck messed up?

Join date: Apr 2006
90

IQ
Check my thread if you wana defret..see sig
Hold on! Give it some bullocks!
I think if you want to paint it you have to remove the current finish and then reapply a new one. To be honest, it could look crappy if you don't get a professional to do it. However, I'm propably completely wrong so please can someone tell me how he'd do it.
I'll have pictures within the hour... I forgot to mention, theres a patch about 30cm x 10 where the black paint has come off. I should've asked how that happened, but I mean, he painted it himself, so...
PT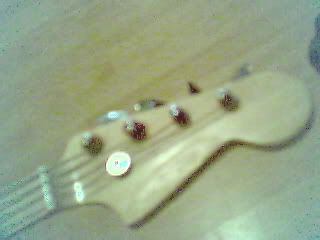 Sorry about the horribly bad quality, my webcam isn't the best.