Different Woods
The top end woods would be alder,mahoghany, and basswood right? or am I missing some? Well what sets all them apart like what are the different tones and sytles of play each are best for?

Join date: Dec 2005
150

IQ
They're all obsessed with woods now...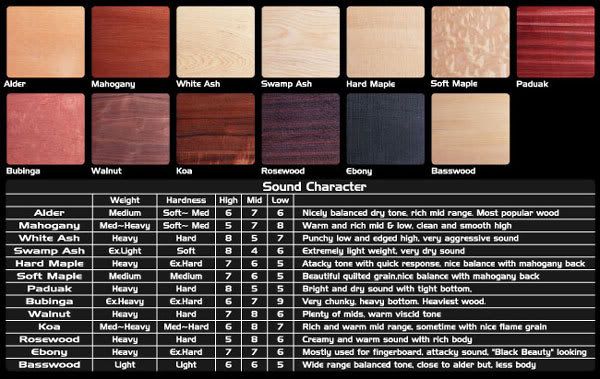 Join date: Sep 2006
10

IQ
informative
so which one would be the best for a guitar body ?
Seems like preference to me but it says that alder is the most popular.

Join date: Dec 2005
150

IQ
Mainly, guitar companies uses Alder/Basswood/Mahogany/Ash. And to add character/cosmetics, sometimes they add maple top. Ebony, maple, rosewood, walnut, bubinga however is commonly used as neck material. There's no such thing as "best" for a guitar body, its preference.