action help
I have a Tele and im trying to adjust the action to where its comfortable for me. i prefer a low action but i can't seem to get this buzzing sound from the first few frets to go away
if ur action seems really high, you might have a bit of a back bow to ur neck.

if u can get the neck a little more bent forward (like a banana) u will be able to clear those first few frets, while still lowering the action a bit at the bridge.

repost if u want to measure ur neck angle
yeah i can tell the neck is kinda bent backwards, il try and adjust that

thanks
HANG on .... let me explain how


edit: if its a backwards bend and u can see that clearly without measuring then use the correct size allen wrench and turn the truss rod 1/8" turn in a COUNTER clockwise direction, after u detune a bit.

then wait an hour. see how it settled. and if u need more bend then turn another 1/8" turn.
thats a very small amount.
dont force a turn, repost wt questions.
Last edited by jj1565 at Sep 23, 2006,
what exactly is the difference between the screws behind the bridge on the saddles and the little thing on the saddles that a tiny allen wrench goes into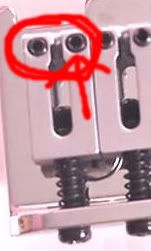 moves the saddle and the string up and down. raises and lowers action.
logs pic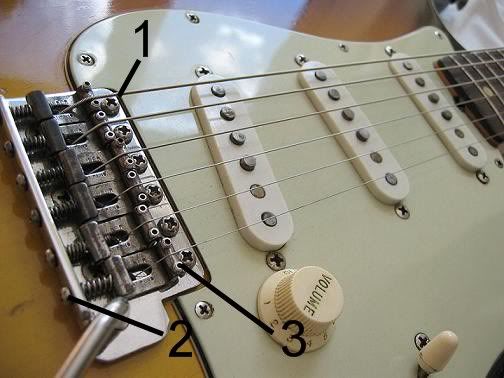 #2 makes the string longer and shorter, by moving the saddle closer and farther from the headstock.
you adjust this one when u want to intonate. thats adjusting ur tuning the length of the board.
your guitar can be in tune with an open string and still out of tune at the 12th.