My new fender signed by three members of pink floyd?
So i went down to guitar center today to look around at the sale they were having. I happen to see this white guitar from a distance and checked it out. It was an old strat/ I quickly noticed it had permanent marker scribbled all over it which upset me a bit. So i ask the guy if theres any way i could wash it off and he said no. so i went and played it and it sounded amazing through various tube amps and i re-talked to the guy about washing it off. He then told me the signatures were pink floyd. David gilmour being my all time guitar man i quickly became interested. Its signed by David Gilmour, Roger Waters and the drummer. I began to joke around about how they were fake and blah blah. The guitar center manager showed me pictures of a guy holding the guitar signed with in fact the members of pink floyd. He gave his authorization that the signatures were real, but since no photo of the actual signing, no 20,000$ pink floyd price tag. So i walked out with the guitar with only taking 380$ out of my pocket. the guitar is a 96 American strat.
how do you guys feel about this. Real or fake? im pretty conviced even if i cant sell it for tons of money, its still cool to have a pink floyd signed guitar.

Join date: Feb 2005
71

IQ
uhh, sorry but that one on the arm contour looks like "Richard U..."

last time i checked there was no Richard U in pink floyd
its richard wright hopefully

keyboard

Join date: Apr 2005
10

IQ
yeh i don't really remember a Richard U...

but hey, if you're happy with the guitar and how it sounds, who cares? enjoy the new axe man.


EDIT: try doing a little research. see if you can actually find what their signatures look like. if they don't even look close, you know it's not real. good luck! PM me when you find out- i'm curious as to if you find anything

Join date: Aug 2005
100

IQ
yea seriously you just bought an american strat for $380. fake signatures or not, the guitar was a good deal anyway

Join date: Feb 2005
71

IQ
yea seriously you just bought an american strat for $380. fake signatures or not, the guitar was a good deal anyway
good point

Join date: Jun 2006
40

IQ
Yea is that USD and does it have stock pickups and electronics? I would have bought it just for the guitar. Did the guitar center guy let you have the pictures?

Join date: Jan 2006
60

IQ
ya, even if its not, it looks sweet, very nice guitar, and only 380 bucks. Thats awesome.
sounds authentic, could've happened. Bands often will sign guitars for radio station give aways, etc. And if the winner isnt a guitar player, it wouldnt be unusual for them to sell it.
Definately a cool find, great for you. I would be worried about playing it so much my arm would start to rub off the signature on the top near the back.
might be real...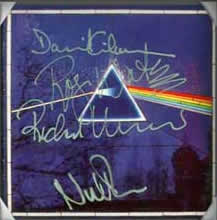 Join date: Apr 2006
20

IQ
As mentioned, even if it isnint real you could always sand it down and repaint it...or ebay it

Join date: Nov 2005
333

IQ
might be real...
Wow, if it is real and for $380, thats just a bargain. Nice find there.

Join date: Dec 2005
10

IQ
It looks real!

I would hang that on a wall and not touch it.

Join date: Sep 2005
10

IQ
nice

Thats awsome, I dont know if its real or not, but it certainly does look real compared to the picture posted with there sigs. Either way, a MIA Srat for 380? Cant beat it man.

Join date: Dec 2005
381

IQ
ok im convincedf those sigs on the picture and the guitar are almost exactly the same
yea seriously you just bought an american strat for $380. fake signatures or not, the guitar was a good deal anyway
Yeah honeslty. i love collecting fender guitars i was gonna buy this before i even saw the signatures. great deal even if signatures are fake. ill hopefully find a way to wipe them off.
woah i just saw that cd. that looks dang near close. and rich wright does make his W's look like U's. i dont know what to think. i just like how the guitar sounds hahaha.

Join date: Aug 2006
10

IQ
Well ive seen what there autographs look like. The david gilmour looks rather real and so does the Nick Mason one.. David has stated he doesnt like giving autographs so im unsure of the authenticity of it.
T
Oh my John, that looks amazing, and that cheap for an old USA Strat? Damn you.

Can you give us a pic of that headstock? The neck looks amazing.

Join date: May 2004
60

IQ
If it's brand new from '96, that means it's not signed by Waters.

If all the guys were together... well... Waters & Gilmoure didn't really hang out much then, did they? Or anytime since really.

And Nick Mason is the only Nick in PF, and that looks like Nick Zenger.

But MIM prices for a pretty looking MIA, sick deal.
Don't wipe the signatures off.
If they're real, you'll regret just having that great guitar for such a little price.

No, seriously, just let them stay where they are.

I wouldn't wipe those off


Juuust in case they are real..
I looked up the serial number on Fender.com. This guitar was made in either 93 or 94 the serial code is N312596.
headstock.