circle of fifths...

Join date: Dec 2005
170

IQ
The Circle of Fifths

This is a device used to determine the notes of each key in the major scale. Here is a lovely picture of it. Take it, hold it, and love it.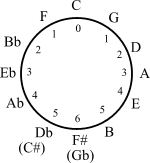 Now, as you can see, C is up at the top and is in the middle. That is because it has no sharps or flats. As you move clockwise, you will move into the sharp keys. As you move left, you will run through the flat keys. By sharp and flat keys, I mean that is how you would write the scales.

C major: C D E F G A B
G major: G A B C D E F#
D major: D E F# G A B C
A major: A B C# D E F# G#
E major: E F# G# A B C# D#
B major: B C# D# E F# G# A#
F# major: F# G# A# B C# D# E#
C# major: C# D# E# F# G# A# B#

I've bolded every new sharp written in each key, progressing clockwise through the circle of fifihs. As you can see, the sharps are added in this order:

F C G D A E B

This can be remembered with the acronym:

Father
Charles
Goes
Down
And
Ends
Battle


This is where the sharp keys end.

Now for the flat keys, going counter-clockwise.

F major: F G A Bb C D E
Bb major: Bb C D Eb F G A
Eb major: Eb F G A Bb C D Eb
Ab major: Ab Bb C Db Eb F G
Db major: Db Eb F Gb Ab Bb C
Gb major: Gb Ab Bb Cb Db Eb Fb
Cb major: Cb Db Eb Fb Gb Ab Bb

I've bolded the new flats this time. the order is reverse of the order that you add sharps, B E A D G C F. Which can be remembered with the acronym:

Battle
Ends
And
Down
Goes
Charles'
Father


I know this is hard to take in at first, but give it time and don't rush into it. It'll come. It's like a language. The more you use it, the easier it'll come eventually.

Why yes, I did copy and paste that.