Input jack.
Hey guys, I have a problem with the input jack on my guitar. When I plug in my cable it makes a loud buzzing like it isn't in the whole way even when I know that the cable is in as far as it will go. Does anyone have any ideas as to what could be wrong? Maybe some diagrams would help, too.

If it matters, it recently had a pickup swap done with EMG 81/60 pickups.
Maybe a cable in is loose inside your guitar since to recently swaped pickups

Join date: Oct 2004
116

IQ
It could be a number of things.. i'm afraid you're going to need to do some dismantling and fiddling... It could be a simple loose connection on one of the wires on the jack itself... resolder both to be sure...
It could be a bigger ground problem in the guitar's wiring, or even just a dodgy lead... try a new lead, if the problem persists, try and resolder the conections on the jack, if it's still buzzing like gary glitter in a creché, look over the wiring on the volume pot, or wherever your common ground is on your guitar...
Hope this helps...

Hey dude, thanks for the reply! I didn't do the swap myself, actually. I bought it with the new pups. I am kind of a noob when it comes to electronics with guitars. Like I don't know what leads are.

Anyways, thanks again.

Join date: Oct 2004
116

IQ
by lead i meant you're guitar cable, the one u plug from gutiar to amp... Try changing that... If it doesnt work... get a mate to look at it, (a mate who knows what he's talking about lol)...
If that fails, take your problem to a guitar centre, they're usually willing to help...


Thanks, I replaced my cable last week just to see if it would fix it. Unfortunately, it didn't. I guess I'll have to roll up my sleeves and get my hands dirty for this one.

Cheers.
Open up your "output" jack and see that the wires are connected/soldered properly like so (see left). Resolder if necessary, make sure the wires arent twisted, then mask one prong with a masking tape to prevent overconnection.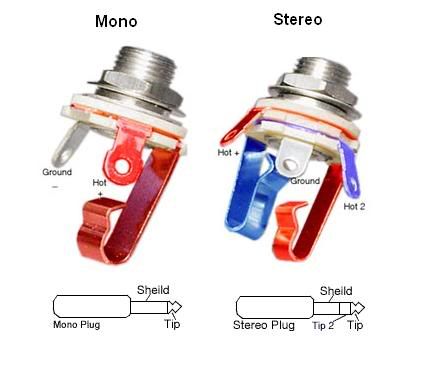 - Insert your cable to see whether the connection are proper
- See that the hot meets the tip/shield properly
- Make any adjustments like bending it forwards or somethin (careful not to break it)
- Turn on the amp to see if you're doing it correctly, when you're happy, screw the jack back in.
Thank dude, I appreciate that.
I'll give it a shot and fill you guys in.
just to add, that's the only way u should ever tighten a jack.
go away jen, you're making me look bad

my pic havent come out for sooo long

Last edited by madpickin03 at Jan 5, 2007,
sorry faz, i didnt see u in a while so i jumped in.


*jumps away. :p


and ur welcome TS. any probs repost, this is a common problem as u can see by the pics.
Thanks guys, it helped alot what you all said.

I don't have a solder iron, but I used a piece of tape to secure the broken weld.

It's temporary until I get a solder iron, but until then it will work nicely.
hey thats cool.

i thought u jumped away......