How to play this?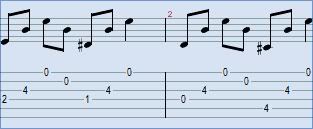 It's from 3 Days Grace - Pain. I've already learned how to play Animal I've become, but my girlfriend loves this song so I want to learn how to play it.
I've tried to use the pinky, but it just kills. Is the best way to just strengthen the pinky or what?
You mean the 1-4 stretch? Definitely use the pinky, it will be easy if you keep using it.
Just use pinky, you'll build strength in it and it's handy to have a strong one

Join date: Feb 2005
85

IQ
Yep, pinky for sure.
If you don't use it, it'll just get in the way, and once you get it strong, a lot more things open up on guitar.
-Alex.

If don't ever use your pinky for playing guitar, you will never be able to play some things in the future. Might as well start now.