Mex Strat going put of tune
I just got a new mex strat but it just keeps going out of tune.

I was thinking the tremolo springs could be tightened because bridge comes up a little.
Could this be the problem?

Join date: Dec 2005
132

IQ
Silly Mexicans, strats are for Americans!

uhh yeah probly teh springs

Join date: Oct 2004
30

IQ
I'd suggest buying new tuners for them. Grover tuners are great, and they're only roughly $40. They'll keep your Strat in tune!

But yes, a properly set up bridge can cure your tuning problems, yet new tuners won't hurt! The tuners on the Mexi's aren't THAT great.

Chris
try tightening the screws on the actual tuner knobs.
stretch out the strings(if they're new)
my strat needed extra springs for the bridge so you should check into that
did you buy it online? if so it definantly needs a set up because they definantly need a set up so that the bridge sits flush with the guitar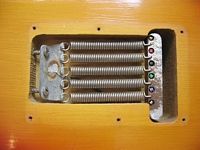 flip the guitar over. tighten the springs in there until the bridge stays level for u. if u need more help add more springs.
if ur bridge lifts it wont stay in tune.